SANDRA CISNEROS ELEVEN [LESSON ACTIVITIES]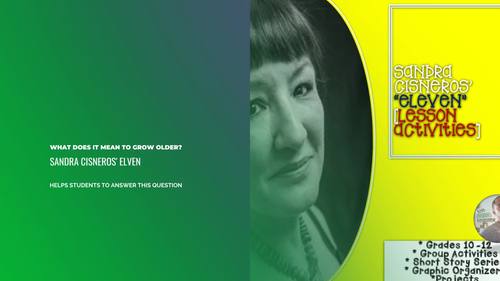 ;
Also included in
This Sandra Cisneros's "Eleven" [BUNDLE] product begs students to question their choices, their values, and other deep themes. 30+ Slides, Several projects, Group Activities, Graphic Organizers, TASK CARDS assignments, Reader Response, Short response and multiple choice Quizzes are activities in thi

Price $33.30

Original Price $38.00

Save $4.70
Description
This Sandra Cisneros' "Eleven" [LESSON ACTIVITIES] product begs students to question their choices, their values, and other deep themes. 30+ Slides, Several projects, Group Activities, Graphic Organizers, TASK CARDS assignments, Reader Response, Short response and multiple choice Quizzes are activities in this product. This narrative encourages insightful responses from work. 9th - 12th Graders will love this prose and product. Check it out!
It's Rachel's 11th birthday! She is supposed to be growing older and celebrating this day; however, an ugly red, stinky sweater promises to make this the worst day ever! Her classmates seem to have turned against her, as her teacher searches for the truth about the sweater's ownership. This day can't get any worse? Can it?
This 10th - 12th grade canonized work allows students to navigate the teenager years through these characters and memorable story line.
This PRODUCT includes:
1. A Mini-Research ActivitY
2. A Vocabulary Comprehension Chart
3. "Eleven" Literary Analysis and Participation Chart
4. "Eleven" Listening Party
5. Group/Individual Assignments
6. "Eleven in Society"
7. Discussing "Eleven"
8. yOU'RE iNVITED tO mY pARTY!
9. "eLEVEN" oN sTAGE - A Skit Competition and much more
Ernest Hemingway's "The End of Something" TEXT
Kate Chopin's "The Story of an Hour" Bundle
Willa Cather's "A Wagner Matinee" Short Story Bundle
The Metamorphosis Unit [Lesson Activities]
FIND ME ON THESE SOCIAL MEDIA PLATFORMS:
Hey guys,
I'm Richard Williams, The Angry Teacher. I've been teaching for 18+ Years , and have amassed quite a bit of knowledge to share. Please consider joining the Angry Teacher family; we'll enjoy having you in the fam!
Please consider checking out the other short story materials and resources in my store.
Also, guys, remember that leaving REVIEWS is a way that TpT gives you credit on products! So let's do it!
Thanks for stopping by!
SUBSCRIBE: https://youtube.com/theangryteacher?sub_confirmation=1,
Thanks for stopping by!
Teaching Duration
2 Weeks
Report this resource to TPT
Standards
to see state-specific standards (only available in the US).
Cite strong and thorough textual evidence to support analysis of what the text says explicitly as well as inferences drawn from the text.
Determine a theme or central idea of a text and analyze in detail its development over the course of the text, including how it emerges and is shaped and refined by specific details; provide an objective summary of the text.
Analyze how complex characters (e.g., those with multiple or conflicting motivations) develop over the course of a text, interact with other characters, and advance the plot or develop the theme.
Determine the meaning of words and phrases as they are used in the text, including figurative and connotative meanings; analyze the cumulative impact of specific word choices on meaning and tone (e.g., how the language evokes a sense of time and place; how it sets a formal or informal tone).
Analyze how an author's choices concerning how to structure a text, order events within it (e.g., parallel plots), and manipulate time (e.g., pacing, flashbacks) create such effects as mystery, tension, or surprise.