SECONDARY ENGLISH READER RESPONSE QUESTIONS [MINI-PACK]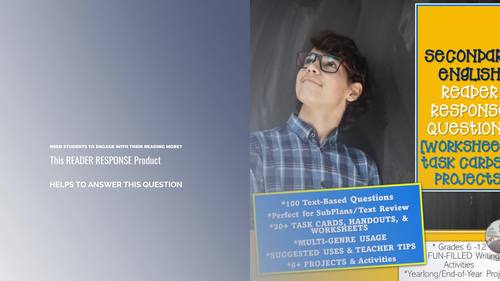 ;
Also included in
This THE MONKEY'S PAW [BUNDLE] product provides students a chance to set goals and determine their life's journey. 120+ Slides, Several projects, Group Activities, Graphic Organizers, TASK CARDS assignments, Reader Response, Quizzes: Short Responses and Multiple Choice are activities in this product

Price $39.60

Original Price $44.00

Save $4.40
Description
Have students breakdown and analyze reading passages through the use of this document. 100 READER RESPONSE QUESTIONS, Black & White versions, HANDOUTS, WORKSHEETS, 2-A-DAYS TASK CARDS, PowerPoint and Word versions, and TEACHER TIPS are all here! After reading any passage, simply apply any of these 100 assignment/discussion starters and watch your students' comprehension and discussions deepen and grow.
You may also appreciate:
Visual Rhetoric [Bundle] [Series#1]
Visual Rhetoric [Bundle] [Series#2]
LITERARY DEVICES FLASH & TASK CARDS [SERIES#1]
Popular Allusions in Literature
Rhetorical Devices Manual [RDM]
Hey guys, I'm Richard Williams, The Angry Teacher. I've been teaching for 18+ Years , and have amassed quite a bit of knowledge to share. Please consider joining the Angry Teacher family; we'll enjoy having you in the fam!
Please consider checking out the other short story materials and resources in my store.
Also, guys, remember that leaving REVIEWS is a way that TpT gives you credit on products! So let's do it!
Thanks for stopping by!
Teaching Duration
Lifelong tool
Report this resource to TPT
Standards
to see state-specific standards (only available in the US).
Cite strong and thorough textual evidence to support analysis of what the text says explicitly as well as inferences drawn from the text.
Determine a theme or central idea of a text and analyze in detail its development over the course of the text, including how it emerges and is shaped and refined by specific details; provide an objective summary of the text.
Analyze how complex characters (e.g., those with multiple or conflicting motivations) develop over the course of a text, interact with other characters, and advance the plot or develop the theme.
Determine the meaning of words and phrases as they are used in the text, including figurative and connotative meanings; analyze the cumulative impact of specific word choices on meaning and tone (e.g., how the language evokes a sense of time and place; how it sets a formal or informal tone).
Analyze how an author's choices concerning how to structure a text, order events within it (e.g., parallel plots), and manipulate time (e.g., pacing, flashbacks) create such effects as mystery, tension, or surprise.