SEL: Confidence Cards: Daily Encouragement for Students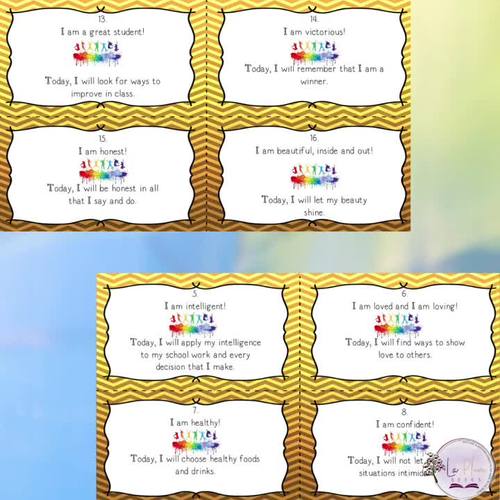 ;
Description
Suggested Use:
Use the Confidence Cards to ensure students are thinking positive thoughts and saying positive things about themselves. There are 32 cards, and students may choose one for each day of the month with a spare or two, and repeat for the following month. You may opt to give all 32 cards to an individual student, or you may house them in a container and provide them to your class so that each student will draw a different card each day to reflect upon.
Card Format: The bold statement on the card is a positive affirmation that the student should repeat throughout the day, and the statement beneath it is an action item that students should participate in each day.
Topics covered:
I am amazing!
I have self-control!
I am a great helper!
I am positive!
I am intelligent!
I am loved and I am loving!
I am healthy!
I am confident!
I am successful!
I am drama-free!
I have great potential!
I am fearless!
I am a great student!
I am victorious!
I am honest!
I am beautiful, inside and out!
I am assertive!
I am creative!
I am thoughtful!
I am motivated!
I am a good friend!
I am respectful!
I am trustworthy!
I am responsible!
I am thankful!
I am valuable!
I am happy!
I am optimistic!
I am one of a kind!
I am courageous!
I am calm.
I am determined!
Suggestion: Laminate for longevity.
Report this resource to TPT