SENSORY Function Behavior - Social Emotional Learning Activity - Social Story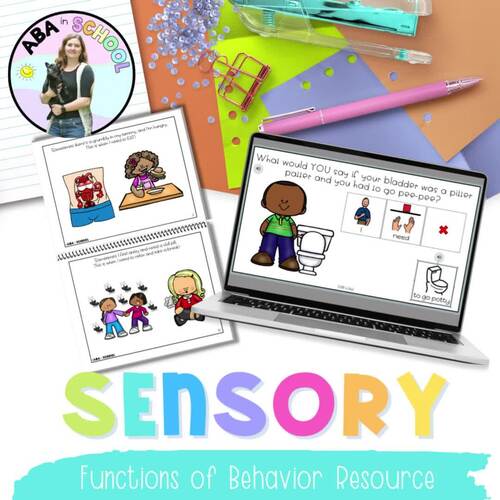 ;
PDF

Google Apps™

Internet Activities
60-pg PDF with digital links
Includes Google Apps™
The Teacher-Author indicated this resource includes assets from Google Workspace (e.g. docs, slides, etc.).
Easel Activity Included
This resource includes a ready-to-use interactive activity students can complete on any device. 
Easel by TPT is free to use!
Learn more
.
Also included in
Looking for quick social emotional learning activities for preschool or special education students? Need social skills stories for morning meeting or preschool circle time? Are you doing social groups but need the simplest of content for your special education or speech students? Each of the 30 SEL

Price $46.00

Original Price $92.00

Save $46.00

Are you looking for social emotional learning activities that help with classroom behavior management for your young students? These are function-based social skills stories and activities for preschool social emotional learning, simple enough for early childhood special education students. Perfect

Price $9.00

Original Price $12.00

Save $3.00

♥Looking for a simple preschool yearly curriculum for your preschool, pre-K, transitional kindergarten, or young special education students? These activities help support a preschool yearly plan and are perfect for students with supportive needs or as a preschool curriculum for 3-year-olds as it is

Price $67.00

Original Price $133.92

Save $66.92

❤️ Looking for social emotional learning activities or social skills stories on basic concepts in communication? Great for back-to-school prep! This bundle of social narratives and social skills activities are great for preschool circle time or social group for students with autism who respond to soc

Price $12.75

Original Price $16.99

Save $4.24
Description
Need a fun and simple social emotional learning activity for classroom behavior management and self-regulation? This digital and print social skills story and activity addresses the function of behavior SENSORY. Perfect for preschool or special education students working on self-regulation, behavior management with behavior trackers, and self-monitoring.

This is a SIMPLE social story, perfect for your earliest learners and those with disabilities and support needs! Includes digital and print social story, print adaptive interactive book, and worksheet activities.

❤️ This is a short digital and print lesson titled I Need (something). This is one of several resources that are focused on the functions of behavior and aimed at the young learner. As sensory is internal, this resources focuses on functional language with core words to help the student express their internal needs.

➕ :
DIGITAL: Includes a short digital lesson of a 12-slide narrative and then a 10-slide activity to reinforce the lesson.
Boom Cards™: Includes audio and immediate feedback  
Click for a preview!
Google Slides™: Play in slideshow mode for audio and clickable links.
Easel Activity™: TPT's digital platform easily played with just your TPT log in.
YouTube™: Listen to the story out loud with illustrations. Great for groups!
PRINT (60-page PDF):
Full-page printable story in color. Print, laminate, and bind to make a book.
Printable story in black-and-white in large and small sizes. Great to give to students to color and take home.
Adaptive book in color. Print, laminate, add hook-and-loop, and bind to make a book. Great to practice the core words phrase "I need."
4 pages of activities and coloring pages
5 pages of bonus communication visuals with Boardmaker™ icons
✎ GET MORE PRESCHOOL ACTIVITIES:
⭐ Preschool IEP Goal Bank MOST POPULAR!
⭐ Adaptive Books I See a... BUNDLE
⭐ Nursery Rhymes Activities BUNDLE
⭐ Asking and Answering Wh Questions BUNDLE
⭐ Social Stories 15-story BUNDLE
✤✤✤✤✤✤✤✤✤✤✤✤✤✤✤✤✤✤✤✤✤✤✤✤✤✤✤✤✤✤✤✤✤
Let's Stay in Touch!
✤ Follow ABA in School to get a monthly FREEBIE in your TPT messages!
✤ Please contact me at audra@abainschool.com if you have questions about this resource or experience a problem. You can also use the ASK A QUESTION tab on my TPT page or the Q & A tab.
✤✤✤✤✤✤✤✤✤✤✤✤✤✤✤✤✤✤✤✤✤✤✤✤✤✤✤✤✤✤✤✤✤
HELPFUL INFORMATION ABOUT THIS RESOURCE:
For Boom™ Products
► You must be connected to the Internet. Boom Cards play on modern browsers (Chrome, Safari, Firefox, and Edge). Apps are available for Android, iPads, iPhones, and Kindle Fires. For security and privacy, adults must have a Boom Learning account to use and assign Boom Cards. You will be able to assign the Boom Cards you are buying with "Fast Pins," (play provides instant feedback for self-grading Boom Cards). Fast Play is always a free way for students to engage with Boom Cards decks. For additional assignment options you'll need a premium account. If you are new to Boom Learning, you will be offered a free trial of our premium account. Read here for details: http://bit.ly/BoomTrial .
For Google™ Products
► You will need a Google account in order to access this resource. Your students will also need Google accounts so they can access the activity if you are assigning to them.
► You must be logged into your account when you download the file. When you click the link, you will get a prompt, "Would you like to make a copy of…." Click Make a copy, and it will copy to your Drive.
► If your school district has Google access blocked, you can choose to have the resource added to a personal Google account and then share it with your school account. 
Copyright © ABA in School. All Rights Reserved.
The purchase of this resource gives the buyer permission to download and copy for single classroom or family use only. Electronic distribution is also limited to single use. Copying for other parents, teachers, school-wide use, or for school systems is only allowed with the purchase of additional licenses. These can be added to your account under "My Purchases" at a discounted price. Thank you for respecting my work.
Total Pages
60-pg PDF with digital links
Teaching Duration
30 minutes
Report this resource to TPT
Standards
to see state-specific standards (only available in the US).
Understand and use question words (interrogatives) (e.g., who, what, where, when, why, how).
Identify new meanings for familiar words and apply them accurately (e.g., knowing duck is a bird and learning the verb to duck).
With guidance and support from adults, explore word relationships and nuances in word meanings.
Identify real-life connections between words and their use (e.g., note places at school that are colorful).
Use words and phrases acquired through conversations, reading and being read to, and responding to texts.