SPANISH Morning Greeting Choices Hispanic Classroom Decor (Saludos Para Clase)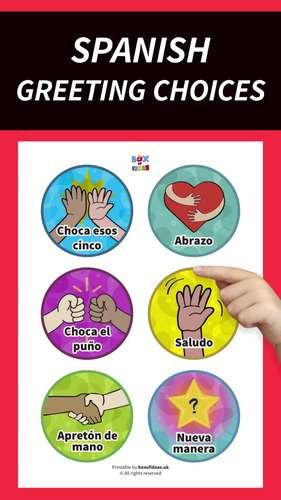 ;
What educators are saying
I placed these at the door when students come in they choose the way they want to greet. It was great.
my dual language learners, completely love the Spanish greeting cards every morning ! They are excited to recognize and identify their morning greeting. Thank you for a great resource.
Also included in
This bundle of fun Hispanic activities are designed by a Mexican teacher-author with a professional design background.Save that precious budget and get amazing value by purchasing this maravilloso Mexican bundle that you can benefit from all year.Great bundle for Spanish class maestras y maestros, b

Price $13.99

Original Price $22.50

Save $8.51
Description
As one of your first day of school activities in Spanish introduce a fun daily morning routine by empowering your children with a poster of greeting choices to enter classroom.
________________________________
Budget saving bundle: MEXICO ACTIVITIES BUNDLE
________________________________
Start your back to school activities with the right foot, invite the children in Spanish class to point at a visual greeting chart with morning greeting choices to receive a warm welcome from you (the Spanish teacher) or from a designated morning greeter (child). You know they love these types of classroom jobs!
Feliz regreso a clases :)
A good way to introduce Spanish vocabulary right at the door.
---
You might like: BILINGUAL NUMBERS (English-Spanish) Posters, Flash-cards and Coloring
---
Click here to Follow my TpT store and catch new products at a reduced price for the first 48H.
► NEED MORE LANGUAGES?
A visuals-only version of the poster is now included with your purchase. Excellent for teachers around the world that don't need Spanish wording in the display.
An ENGLISH version of this poster is available here.
_________________________________________
You might like: Day of The Dead Sugar Skulls Template
_________________________________________
► 10 Reasons to use a Greeting System with a Greeting Choices Chart in your Preschool and Kindergarten Classroom:
Support children that speak a different language.
Make everyone feel welcomed in your classroom.
Let the children experiment with different ways of social interaction.
Make the classroom more inclusive for children with learning difficulties.
Empower children to make their own choices.
Encourage interaction amongst all of your students (and with yourself, this is great as a Meet the Teacher activity).
Help children have a small boost in their self-confidence.
Set a positive tone in your students right from the start of the day.
Strengthen relationships amongst your students.
Promote a safe Spanish classroom culture.
► Videos of teachers using a Morning Greeting System
See a compilation of video examples of teachers using a morning greetings system with their students: https://boxofideas.uk/greetings
_______________________________
► Other teachers are also loving:
_______________________________
► WHAT'S INCLUDED:
The download includes two JPG files in high resolution (A4 paper size) with the following:
1 JPG "Spanish Morning Greetings Chart" with illustrations of these different types of greetings: High five, Fist Bump, Hand Wave, Handshake and New way.
1 JPG  "Buenos días" sign that looks very nice placed on top or next to with the Spanish greetings chart.
1 PDF with 6 BIG Letter-sized Greetings Options so you can cut out and paste on the classroom door.
1 JPG "No-words" poster with only the visuals for each of the greeting choices.
_______________________________
► Earn TPT credit to use on future purchases:
Go to your My Purchases page on your TpT profile.
Select 'Provide Feedback'.
Leave an honest rating with a short comment for this product.
That's it! have fun spending your TpT credit :)
Click here to Follow my TpT store and catch new products at a reduced price for the first 48H.
Report this resource to TPT
Standards
to see state-specific standards (only available in the US).
With prompting and support, describe the relationship between illustrations and the text in which they appear (e.g., what person, place, thing, or idea in the text an illustration depicts).
Demonstrate understanding of the organization and basic features of print.
Follow words from left to right, top to bottom, and page by page.
Read closely to determine what the text says explicitly and to make logical inferences from it; cite specific textual evidence when writing or speaking to support conclusions drawn from the text.
Integrate and evaluate content presented in diverse media and formats, including visually and quantitatively, as well as in words.