SPRING BUMP Dynamics Game Easter Music Game Powerpoint Easter Music Activity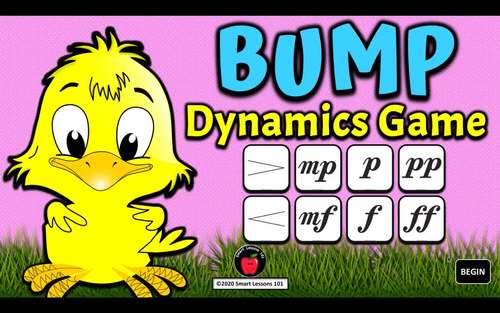 ;
Description
Students love BUMP games! Here's the powerpoint version for your Easter or Spring music lesson! This "BUMP" music activity will help your students practice identifying terms and learning definitions for music dynamics! A spinner will generate RANDOM dynamics, so !
1. Divide the class into two teams.
2.SPIN the wheel and identify the name of the dynamic.
3. If you are right, click on that dynamic to "HIGHLIGHT" it.
4. If your team spins the same dynamic twice, you can "LOCK" it in.
5. Careful - the other team can RESET any one of your squares that aren't locked in!
5. See which team can lock in all their dynamics first!
This ready to use Dynamic Powerpoint music game is perfect for your elementary music lesson this spring or use it for your Easter lesson as an assessment activity. Need a quick sub plan? Add it to your sub tub or set it up as an EASTER or SPRING music center. This product is perfect for small group work or large class engagement and will reinforce musical skills needed for playing music or completing assignments and music worksheets.
RESOURCE INCLUDES:
♫ "SPRING BUMP Dynamics Game" Powerpoint Activity for your music Lesson
CONCEPTS COVERED:
Piano, pianissimo, mezzo piano
Forte, fortissimo, mezzo forte
Crescendo and decrescendo
RECOMMENDED FOR USE BY:
♫ General Music Classes
♫ Beginner Band Classes
♫ Music Specialists
♫ Perfect for the Substitute/Supply Teacher
♫ Piano and Studio Teachers
♫ Homeschool
♫ Teachers with Minimal Music Background
SALES & FREEBIES
Click HERE to be the first to see new products and FREEBIES and learn about upcoming sales!
FREE STORE CREDITS
Want to get Free store Credits? Click HERE to provide FEEDBACK!
♫ FREEBIES
First Day of Music Photo Signs
SMART THEORY NOTE NAME POSTERS
LINES ON THE STAFF Music Theory FREEBIE with Video and Reproducible
BAG Recorder Fingering Boom Cards for Google Classroom TM
Winter Treble Clef Staff Paper FREEBIE
Groundhog Day Color by Rhythm Symbols FREEBIE
Rhythm Symbol Anchor Chart FREEBIE
♫ EASTER BOOM CARDS YOU MIGHT LIKE:

♫ EASTER BOOM BINGO GAMES YOU MIGHT LIKE:
Easter Treble and Bass Clef Boom Bingo
Easter Lines and Spaces Boom Bingo
Easter Rhythm Flashcard Boom Bingo
Easter Rhythm Symbol Boom Bingo
Easter Music Instrument Boom Bingo
Easter Music Symbol Boom Bingo
♫ EASTER PRODUCTS YOU MIGHT LIKE:
Old (Maid) Easter Bunny Card Game
Easter Squares Rhythm Symbol Game
Easter Note Spelling Worksheets
♫ SPRING PRODUCTS YOU MIGHT LIKE:
Spring Rhythm Symbol Worksheets
Spring Rhythm Flashcard Videos
Spring Printable Rhythm Flashcards
Soccer Symbols Note Value Counting Beats Game
March Mad Minutes Note Naming Pages
Spring Jive With a Gif Brain Breaks
♫ DYNAMIC PRODUCTS YOU MIGHT LIKE:
CATEGORIES:
April activity, April music, April music activities, April music centers, April music games, April music lessons, beginning band, Beginning band games, dynamic, Easter, Easter activities, Easter games, Easter lessons, Easter music, Easter music activities, Easter music center, Easter music game, Easter music lessons, Easter dynamic activities, elementary music, elementary music activities, Fun activities, Fun stuff, March activities, March music activities, March music centers, March music games, March Music lessons, music activities, Music assessment, Music Centers, Music dynamics, Music dynamics activities, Music dynamics game, Music ed, Music Education, music games, music games for grade 1, music games powerpoints, Music lesson for sub, Music lesson plans K-5, Music Lessons, Music sub plans, music sub plans for non music sub, Music Symbols, music theory activities, Music theory assessment, music theory games, powerpoint music activities, powerpoint music games, Reading Music, Spring Music, Spring music activities, Spring music activities for kids, Spring music for kids, Spring Music games, Spring music lessons, spring music theory, Sub tub, substitute binder, Substitute Lessons, substitute plans, substitute teacher, Substitute teacher activities, Teaching Theory
Report this resource to TPT