STEM Challenge Bundle: 28 STEM career exploration mini courses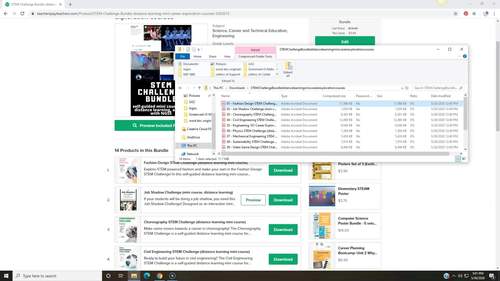 ;
Products in this Bundle (28)
showing 1-5 of 28 products
Bonus
Middle School NGSS and TEKS alignments & googleslides links
Description
Explore STEM careers through this collection of 28 fun, self-paced Google Slides STEM Challenges! Upper middle and early high school students will explore a wide variety of digital media to explore STEM careers, create hands-on projects, and connect with additional resources to fuel their passions - a good mix of online and offline activities using only simple materials found around the home or classroom. And YOU don't have to do a thing!
Each Challenge will take high schoolers at least 2 hours to complete independently (some Challenges will take more time), middle schoolers at least three hours per Challenge. Space, animals, engineering, medical, robotics, and much more - a STEM Challenge to match every student career interest included in this bundle! Most Challenges are aligned with middle school NGSS and TEKS standards and designed for independent student use whether in-person or distance learning. This STEM Challenge Bundle is also a great fit for middle school age Gifted & Talented students.
Each Challenge is provided as one comprehensive Google Slides presentation and as a fillable PDF (use the free Adobe Fill & Sign feature) - easy uploading and sharing in your online classroom! Click the previews above to explore these fun online mini STEM career training courses. Bonus file is included with purchase showing Challenge alignments with middle school NGSS Disciplinary Core Ideas, middle school TEKS, and Google Slides links for easy access and use. Help your students stay connected, be creative, and explore STEM careers!
The Cool Person in STEM Challenge is provided as a GoogleDoc packet, and there are 2 Challenges that are not Google Slides but instead are Canva templates. A FREE Canva account is needed to use these 2 Challenges: Virtual Job Shadow Challenge, STEM in my Community Challenge.
NEARLY 1,000 PAGES totaling at least 90 hours of STEM career exploration activities and excitement!
Want valuable download & go resources to help you effortlessly integrate STEM career exploration? Then get a copy of my FREE Quick Start STEM Career Exploration Kit!
Teaching Duration
Lifelong tool
Report this resource to TPT