STEM Challenge Design a Volcano With Blocks PRINT and DIGITAL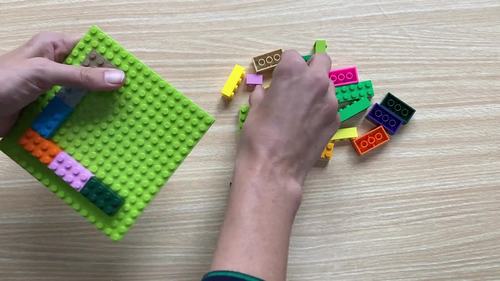 ;
What educators are saying
Students were able to gather background knowledge and then create the lego volcano. It was a bit messy but very engaging in my STEAM class
Also included in
This is a growing collection of easy to implement STEM challenges for upper elementary and middle school aged students. All of these challenges include:background informationstudent directionstips for teachers with suggestions and extensionsa student response worksheeta scoring rubricforce copy link

Price $33.50

Original Price $67.00

Save $33.50

This bundle includes 10 hands-on science labs and activities all related to the Earth: rocks, fossils, minerals, crystals, tectonic plates, etc. This includes: Experiment: Modeling the Rock Cycle with StarburstExperiment: Modeling Tectonic Plates with Graham CrackersSTEM Challenge: Construct an Eart

Price $22.20

Original Price $37.00

Save $14.80
Description
For this STEM Challenge, students must build a volcano out of plastic building blocks (similar to LEGO brand blocks) and make it erupt! This file includes:
teacher directions, discussion questions, and extension activities
5 slides of background information about volcanoes
4 slides setting up the challenge with student directions and photos
a student response worksheet
a scoring rubric
a force copy link to a Google Slides version
Your students will love this simple but challenging STEM activity and you will love that it requires minimal prep time.
Get my growing STEM bundle instead and save 50%! The best news is you'll get all future STEM resources that I add for free!
Please follow my store here for more great resources!
You can also find me on Facebook, Instagram, and lafountaineofknowledge.com where you'll discover ideas, inspiration, and plenty of freebies! Or join my email list to get a monthly newsletter with exclusive FREE resources you can't get anywhere else!
Want free money to spend on Teachers Pay Teachers? Rate this product to earn some TpT credit! Leaving feedback helps us both out and takes less than a minute! Your support makes it possible for me to continue making and sharing great resources! Thank you!
Credits: All photos used with permission and sourced via and . Background photo by , photo on pages 4 by , and photo on page 6 by . All other photos and the graphic on page 7 are by Shea LaFountaine of LaFountaine of Knowledge. The border on page 12 was created by and used with permission. Fonts used include: Amatic SC by Vernon Adams and Coming Soon by Open Window. Fonts used with permission under open source licenses.  
Report this resource to TPT
Standards
to see state-specific standards (only available in the US).
Analyze and interpret data on natural hazards to forecast future catastrophic events and inform the development of technologies to mitigate their effects. Emphasis is on how some natural hazards, such as volcanic eruptions and severe weather, are preceded by phenomena that allow for reliable predictions, but others, such as earthquakes, occur suddenly and with no notice, and thus are not yet predictable. Examples of natural hazards can be taken from interior processes (such as earthquakes and volcanic eruptions), surface processes (such as mass wasting and tsunamis), or severe weather events (such as hurricanes, tornadoes, and floods). Examples of data can include the locations, magnitudes, and frequencies of the natural hazards. Examples of technologies can be global (such as satellite systems to monitor hurricanes or forest fires) or local (such as building basements in tornado-prone regions or reservoirs to mitigate droughts).
Plan and carry out fair tests in which variables are controlled and failure points are considered to identify aspects of a model or prototype that can be improved.
Construct an explanation based on evidence for how geoscience processes have changed Earth's surface at varying time and spatial scales. Emphasis is on how processes change Earth's surface at time and spatial scales that can be large (such as slow plate motions or the uplift of large mountain ranges) or small (such as rapid landslides or microscopic geochemical reactions), and how many geoscience processes (such as earthquakes, volcanoes, and meteor impacts) usually behave gradually but are punctuated by catastrophic events. Examples of geoscience processes include surface weathering and deposition by the movements of water, ice, and wind. Emphasis is on geoscience processes that shape local geographic features, where appropriate.
Define a simple design problem reflecting a need or a want that includes specified criteria for success and constraints on materials, time, or cost.
Generate and compare multiple possible solutions to a problem based on how well each is likely to meet the criteria and constraints of the problem.