STEM Challenge Egg Cars featuring Newton's 2nd Law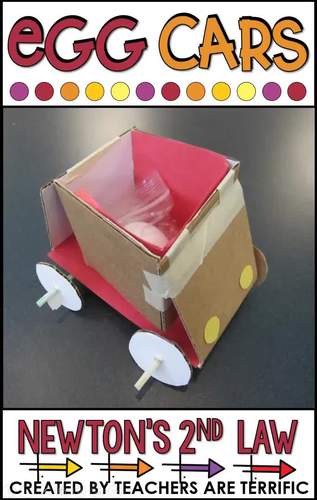 ;
Also included in
If you are ready for an entire year's worth of STEM Challenges, this set is a perfect choice. This collection of student-tested STEM Challenges for elementary students is jam-packed full of so many projects- 60 to be exact. This is all you will need for an entire school year! You have challenges of

Price $120.00

Original Price $215.25

Save $95.25

Do your students struggle to understand Newton's Laws of Motion? Here's a set of three challenges that all involve those laws! Students will be involved in total hands-on learning as they tackle the second and third laws specifically and designing bottle cars, egg cars, and Newton's cradles! Fabulo

Price $6.80

Original Price $10.50

Save $3.70

Are you looking for challenges specific to third grade? This is an amazing collection of student-tested STEM Activities. It includes 20 best-selling STEM Challenges, a Bonus Multi-day Project, and a Design Poster Set.Note: Each of the challenges is available individually and in other money-saving bu

Price $46.40

Original Price $70.50

Save $24.10

Newton's Laws made easy! Here's a set of 6 STEM challenges that all involve Newton's Laws of Motion! Students will be learning about the second and third laws specifically and designing Bottle Cars, Egg Cars, Newton's Cradles, Paper Plate Balloon Cars, Balloon Carousels, and Balloon Rockets! Fabul

Price $13.20

Original Price $21.00

Save $7.80
Description
It's another fabulous STEM activity using Newton's Laws of Motion! Students will love this egg car challenge and the experimenting with their egg cars and ramps!
Note: This challenge is available in a money-saving bundle!
What is the challenge?
In this challenge, students will use materials to design and create a vehicle. The vehicle must transport cargo down a ramp in the fastest and safest way possible.
The students will need to plan the best way to overcome friction and maintain enough speed to make it down the ramp.
In addition, the vehicle will have to be stable enough to transport the precious cargo without damaging it. The cargo just happens to be an egg!
Students will work using a budget. Students must "purchase" materials to use and stay within a set spending amount.
This project was tested with third graders and is suggested for grades 3-5.
You will need supplies in addition to this package. This includes craft sticks, straws, cardboard pieces, cardboard tubes, Masking tape, wooden skewers, round objects for wheels, plastic and real eggs, pipe cleaners, rubber bands, paper clips, and binder clips, weights (like pennies) for the eggs, and a ramp. The ramp can be a long piece of cardboard or foam board. Side "rails" are optional but helpful!
The package specifically includes:
Teacher background
Materials and preparation page
5 pages of teacher directions
Constraints list
A special page of information about Newton's Laws of Motion
4 pages of photographs
Student lab sheet
Two versions of the Cost and Planning sheet
An editable Cost and Planning sheet
Bonus Lesson idea about using small die-cast cars and track to demonstrate the laws of motion
Scoring rubric
Terms of Use page.
All forms are editable!
Student answer sheets are not included, but samples from student work are included in the teacher direction pages.
The page count listed for this package includes everything.
This challenge will need 2 class sessions to complete.
This challenge works perfectly with these two:
All three Newton challenges are available in money-saving bundles!
NEWTON'S LAWS
The simplified version of the second law of motion is: the greater the mass of an object, the more force it will take to accelerate that object. So, the farther you want something to go, the harder you must throw it or kick it. Also, the heavier something is, the harder it is to move it. An object with more mass must have even more force applied.
So How Does This Apply to Egg Cars?
According to the 2nd law, the heavier something is the harder it is to move it. We used the ramps to create the force to propel our cars. A steeper ramp should have given us more force to make the car travel farther even when it was heavier. A bonus lesson with our ramps was understanding that the forward motion of the car did cause the top-heaviness and the ejecting of the egg.
*****************************************************************************
You might also like these STEM events about Force and Motion:
*****************************************************************************
Be the first to know about my new discounts, freebies, and product launches:
Click here to follow my store. It's that easy to receive email updates about Teachers Are Terrific!
Keep in Touch!
Thank you so much,
Teachers Really are Terrific!
Report this resource to TPT
Standards
to see state-specific standards (only available in the US).
Apply scientific ideas to design, test, and refine a device that converts energy from one form to another. Examples of devices could include electric circuits that convert electrical energy into motion energy of a vehicle, light, or sound; and, a passive solar heater that converts light into heat. Examples of constraints could include the materials, cost, or time to design the device. Devices should be limited to those that convert motion energy to electric energy or use stored energy to cause motion or produce light or sound.
Plan and carry out fair tests in which variables are controlled and failure points are considered to identify aspects of a model or prototype that can be improved.
Use evidence to construct an explanation relating the speed of an object to the energy of that object. Assessment does not include quantitative measures of changes in the speed of an object or on any precise or quantitative definition of energy.
Define a simple design problem reflecting a need or a want that includes specified criteria for success and constraints on materials, time, or cost.
Generate and compare multiple possible solutions to a problem based on how well each is likely to meet the criteria and constraints of the problem.