STEM Challenges Full Year Bundle (16 Sets with Growth Mindset Partner Plays)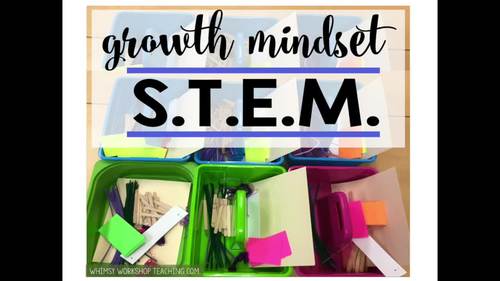 ;
What educators are saying
Simple and cute STEM activities! We did a STEM camp this summer for our primary students and we used some of these activities! They loved it!
This is perfect to integrate with our Benchmark Advance reading. They were challenging and helped develop critical thinking and problem solving skills. The students really enjoyed doing this. Thanks!
Products in this Bundle (16)
showing 1-5 of 16 products
Description
This huge set is unique in that it combines 16 complete sets of both STEM and Growth Mindset lessons, explored together with Fairy Tales.
When coordinating STEM building challenges for grades 1-5, I prefer to integrate growth mindset components to ensure students understand that STEM challenges are about refining and improving ideas, rather than achieving success on the first try!
This bundle of 8 fairy tale challenges begin with a fairy tale partner play that sets up the STEM challenge for students; this gives them an authentic reason and context for solving an engineering challenge. Each challenge is accompanied by a workbook that prompts them to share ideas, brainstorm together, and write about the physical and mental challenges of achieving their solutions. The bundle includes lots of photos and examples of finished projects and workbook pages.
So what is STEM?
STEM challenges are not just about building things. STEM involves:
★ presenting students with an authentic problem
★ challenging students to collaborate for possible solutions
★ making specific plans for the solution
★ testing the model to see if it solves the problem
★ reflecting, revising, and re-testing
★ reflecting on success and recognizing mistakes as part of the process
Why Is Teaching STEM with GROWTH MINDSET So Important?
Students with a positive growth mindset are much more likely to take chances, think outside the box, and persevere when their first ideas don't quite work out as planned. This is ESSENTIAL for STEM study and one of the main goals of exploring STEM.
WHICH FAIRY TALES and CHALLENGES ARE INCLUDED?
Little Red Riding Hood - Cookie Catapult Challenge
Goldilocks - The Great Chair Repair Challenge
Three Pigs - Build a Sturdy House Challenge
Jack and the Beanstalk - Build A Giant Beanstalk Challenge
Gingerbread Man - Build A Better Boat Challenge
Three Billygoats Gruff - Build A Better Bridge Challenge
Rapunzel - Escape From The Tower Challenge (paper tower template included)
Little Red Hen - Zipline Flour Transport System Challenge
The Tortoise and the Hare - Make a vehicle to win the race
The Elves and the Shoemaker - Make a new kind of shoe
Hansel and Gretel - Make a candy shooter
Rumpelstiltskin - Make a musical instrument
The Lion and the Mouse - Make a human trap
Country Mouse City Mouse - Make a marble maze
The Grasshopper and the Ant - Make a straw shooter
The Frog Prince - Make a pulley system for the well
ORGANIZATION:
Each fairy tale has the following components:
1 - PARTNER PLAY to read aloud. After reading the original fairy tales, student work in small groups to read and perform simple partner plays involving the same characters. These are slight variations on the original tales.
One character shows a growth mindset and which have a fixed mindset! This provides a great opportunity to discuss growth mindset concepts with students.
2 - GROWTH MINDSET WORKBOOK - A workbook specifically aimed at exploring growth mindset concepts in the fairy tale partner plays. You can pick and choose which of the pages you want to use, including comic speech bubble writing and cut and paste sorting projects.
3- STEM CHALLENGE - Each partner play ENDS with a building challenge.
For example: How can we help Little Red get the cookies to Granny when the wolf keeps stopping her? Could we build a catapult and shoot them over the forest to Granny's porch? Students use the materials you provide to create different things to "help" the characters from the story. Students have an authentic reason to solve the engineering problem and are excited to begin!
4- STEM WORKBOOK or FLIPBOOK: These printable pages guide students through the STEM process of brainstorming, improving and reflecting on the engineering process.
WHAT KIND OF SUPPLIES WILL I NEED?
You can use any supplies you have for the STEM projects - just toss them into bins and you're ready to go. The most used in my classroom are: masking tape, straws, pipe cleaners, paper, tin foil and string. Some other suggestions are: stir sticks, glue, small paper cups, elastic bands, plastic spoons, etc. I have purposely kept the materials list open, but you can see examples of what my students used in the photos.
WHAT IS IN EACH FAIRY TALE PACK?
Each set contains the same contents and format:
p1. Welcome and Rationale for Growth Mindset and S.T.E.M.
p3. Teacher Notes and Quick Overview
p4. Materials List + Main Elements
p5. How It Will Look Pre-organizer
p6. Introducing Growth Mindset Posters and Activities
p11. Introducing the Story – Overview
p.13. Partner Play
p.16 Growth Mindset Dialogue Sorting
p17. Which characters have a growth mindset?
p20. Introducing the STEM challenge + Workbook
p21. Workbook cover
p22. Collaborative Ideas Brainstorming
p23. Problem Solving recording page
p24. Testing + Improving My Idea pages (3 versions)
p25. My Collaborative Learning – self assessment
p29. STEM Process – self assessment checklist
p30. Letter To Parents (including blank version)
p32. Character and Setting Printable Props (stand ups)
p.36 Credits
PREVIEW
You can see the preview by clicking the green button near the top of this page. Please look at the preview to see the details before purchasing to ensure these are right for your needs.
Click HERE to follow my store for early bird pricing on new resources!
MORE STEM OPTIONS
If you're looking for seasonal STEM challenges with partner play, click here:
Seasonal STEM BUNDLE with Partner Plays
=======================================================
MORE IDEAS FOR GROWTH MINDSET
If you are looking for more Growth Mindset ideas for your classroom, you may like the
Growth Mindset Classroom BUNDLE
DOWNLOADING AND PRINTING
If you have any trouble with downloading or printing your documents with the clip art, please read the help on this page: https://www.teacherspayteachers.com/Help
If you still need troubleshooting, please email support@teacherspayteachers.com and the TPT tech team will be happy to help you.
Clip art bundles are collected in a compressed ZIP file and include all clip art on the cover, my logo, a preview image, and a link to my TOU. You can read more about zip files by clicking HERE.
SIMILAR RESOURCES
Would you like to see a huge list of similar resources all on one page?
Just click the category below that you'd like to browse:
⭐️  Click to see all SOCIAL SKILLS resources.
⭐️  Click to see all ART resources.
⭐️  Click to see all MATH resources.
⭐️  Click to see all FREE DIRECTED DRAWING VIDEOS resources.
⭐️  Click to see all SENTENCE BUILDING resources.
⭐️  Click to see all PHONICS AND READING resources.
CONTACT
If you have any questions or concerns, please email me directly at whimsyworkshopcreations@gmail.com
Please read my TOU first as many questions are answered there.
Whimsy Workshop Teaching Terms Of Use
*Commercial purposes such as Outschool are not permitted.
OTHER RESOURCES
You can see ALL clip art and early literacy sets organized in one place by clicking Whimsy Workshop Teaching -- simply choose a tab at the top of the page to explore!
Don't miss out on free and discounted resources by keeping in touch!
Click HERE to follow my store for early bird pricing on new resources!
Teachers Pay Teachers Notifications
Access to:Newsletters and Free Resource Library
-Susanna
Whimsy Workshop Teaching
***************************************************************************************
TERMS OF USE
Please read my TOU first as many questions are answered there.
Whimsy Workshop Teaching Terms Of Use
Copyright ©Whimsy Workshop Teaching, Inc. All rights reserved by author. This product is to be used by the original downloader only. Copying for more than one teacher or classroom use is prohibited. If you know of other teachers who wish to have their own copy, you can click on extended licenses during the checkout process (at reduced prices), or email the product link to colleagues so they can purchase their own legal copy and receive any updates in the future.
This product may not be distributed or displayed digitally for public view. Failure to comply is a copyright infringement and a violation of the Digital Millennium Copyright Act (DMCA). Clipart and elements found in this PDF are copyrighted and cannot be extracted and used outside of this file without permission or license. Intended for classroom and personal use ONLY. *Not for commercial purposes such as Outschool.
Report this resource to TPT