STEM Kite Challenge | April STEM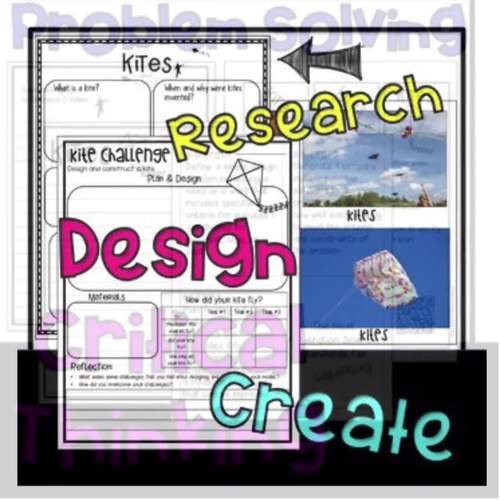 ;
What educators are saying
This was really helpful in order to encourage my students to be excited about learning this new topic. They were able to easily understand what was expected and could independently practice.
Also included in
STEM for the Entire Year Bundle Set #2 includes over over 25 Challenges, experiments, and activities your students will love! These activities are great for team building at the beginning of the school and covers holidays throughout the year! Slime Experiments and Making End of the Year Awards are t

Price $40.00

Original Price $78.00

Save $38.00

STEM Mega Bundle includes over 85 Challenges and daily STEM Challenges that will engage your students as they go through the engineering design process. Your students will learn to collaborate with their peers as they think critically and problem solve to complete seasonal STEM Challenges!⭐These act

Price $110.00

Original Price $213.00

Save $103.00

Inventors and Inventions are so fun to learn about! Are you looking for fun STEM activities that your students will enjoy as they learn about inventions that changed our world? These STEM Activities connect to history, economics, research, and design challenges. Connecting fun children's literature

Price $35.00

Original Price $63.50

Save $28.50

Wanting to connect STEM to geography and history? STEM Around the World: Famous Landmarks, Daily STEM Events, and Inventions Bundle includes 30 different STEM Activities to research and design structures resembling the landmark or an invention. Connecting fun books and researching about inventions

Price $74.00

Original Price $148.00

Save $74.00
Description
STEM Kite Challenge is an activity that can be connected to Iqbal by Francesco D'Adamo or it can be a stand alone STEM Challenge. This challenge will engage your students as they learn about kites, design, and test their kites. Students will construct kites after they research them. Students will go through the Engineering Process as they build and test their kites using various materials to construct it.
⭐This product is included in my STEM BUNDLE #2 Challenge!
Your students will love designing, creating, and engineering. Students will problem solve and think critically as they complete their challenges.
It is important to keep the challenges open ended so students will start thinking about other challenges or tests they would like to perform.
⭐This activity can also be used for STEAM Activities, STEM After School Programs, Summer Programs, Clubs, Maker Spaces, or at home.
Included in this product:
➡Teacher Pages
➡Examples & Materials page
➡Kite Picture Cards
➡Kite Challenge Design and Plan Page
➡Engineering Next Generation Standards Posters (3)
➡Kite Research Page
➡Kite Writing Paper
➡Iqbal Summary Page
➡Iqbal Story Elements Page
*Other products you may like:
⭐Also, follow me and be notified when new products are uploaded. New products are always 50% off for the first 24 hours they are posted. It pays to follow me!
Follow me on Facebook and Instagram!
Thank you so much,
Lisa Taylor
Report this resource to TPT
Standards
to see state-specific standards (only available in the US).
Refer to details and examples in a text when explaining what the text says explicitly and when drawing inferences from the text.
Explain events, procedures, ideas, or concepts in a historical, scientific, or technical text, including what happened and why, based on specific information in the text.
Determine two or more main ideas of a text and explain how they are supported by key details; summarize the text.
Explain the relationships or interactions between two or more individuals, events, ideas, or concepts in a historical, scientific, or technical text based on specific information in the text.
Write informative/explanatory texts to examine a topic and convey ideas and information clearly.