Saint Valentine's Day Reading Passage and Envelope Heart Card Holiday Craft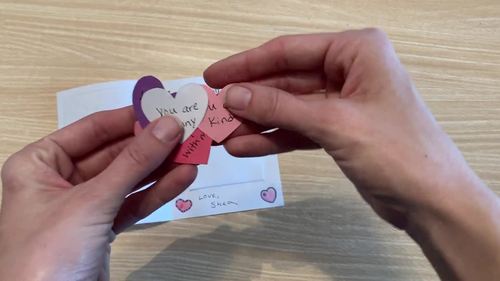 ;
Also included in
This bundle includes 11 reading comprehension passages and simple crafts to teach and celebrate common American holidays. Each resource includes: a reading passage with short answer questions about each holidayan answer keyvideo and print directions to complete a holiday themed craft all templates a

Price $23.10

Original Price $38.50

Save $15.40
Description
This Valentine's Day lesson and activity includes a reading comprehension passage about the holiday and directions and materials to create a valentine card with a tiny envelope inside full of hearts with messages written on them. It also includes teacher directions with a link to a demonstration video, student directions with photos, an answer key, and a scoring rubric.
Reading Passage - The reading passage explains that Valentine's Day happens each year on February 14th and celebrates romantic love as well as friendship. It explores the mysterious history of the holiday, which was named by the Catholic Church for Saint Valentine and has its roots in the pagan holiday, Lupercalia. It goes on to describe how Valentine's Day is celebrated today with the exchanging of valentines as well as gifts like chocolates and roses.
Heart Card Craft - This download includes directions with pictures, a video demonstration, and all templates needed to create a Valentine's Day card. Students color the card and then construct a tiny envelope which they glue inside. Next, they write messages on tiny paper hearts to complete the sentence "I admire you because..." and place them inside the envelope. Students can give these cards to someone they admire on Valentine's Day.
If you like this resource, check out my full collection of holiday reading passages and crafts!
Please follow my store here for more great resources!
You can also find me on Facebook, Instagram, and lafountaineofknowledge.com where you'll discover ideas, inspiration, and plenty of freebies! Or join my email list to get a monthly newsletter with exclusive FREE resources you can't get anywhere else!
Want free money to spend on Teachers Pay Teachers? Rate this product to earn some TpT credit! Leaving feedback helps us both out and takes less than a minute! Your support makes it possible for me to continue making and sharing great resources! Thank you!
Credits: Graphics: Cover graphic by , border by and heart clipart by (all used with permission), all other photographs and graphics were created by Shea LaFountaine of LaFountaine of Knowledge.
Information: Passage written with information gathered in part from and
Fonts: Emily's Candy by Neapolitan, Annie Use Your Telescope by Kimberly Geswein, and Calibri by Luc de Groot (all used with permission under open source licenses)
Music: Parisian Cafe by Aaron Kenny
Answer Key
Included with rubric
Teaching Duration
90 minutes
Report this resource to TPT