Sample Essay Analysis Digital Task Cards, Response to a Text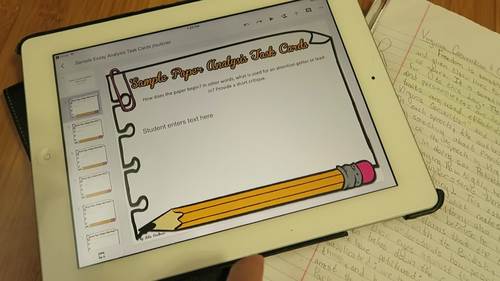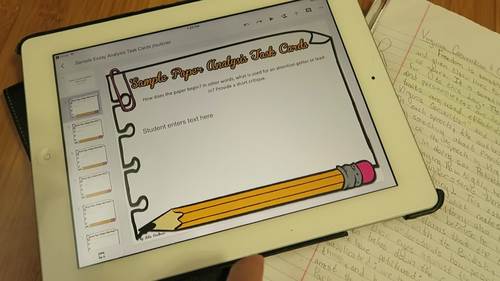 Created By
Julie Faulkner
Format
Presentation (Powerpoint) File
 (
1 MB
|
36 task cards
)
 Digital Resource for Students
The Teacher-Author has indicated that this resource is made for device-based learning.
Also included in
These Analysis Task Cards for Sample papers in printable and Google format are an excellent modern and engaging activity to have students show their understanding of writing, take ownership of their learning, dig deeper, and closely analyze any essay. You can use these easy prep cards to have studen

Set up your essay writing curriculum in a snap with these materials for narrative, explanatory, argumentative, and research writing. What is it? It's not only a bundle of my best-selling, classroom-tested units and resources for writing, but with this set of resources, you will have a full year's w

$150.04

$166.71

Save $16.67
Description
These Sample Essay Analysis Task Cards are an excellent modern and engaging activity to have students show their understanding of writing, take ownership of their learning, dig deeper, and closely analyze model papers -- all virtually via Google Drive. You can use these cards to have students respond to model essays or student writing.
Included:
- Questions that correlate directly with not only CCSS writing anchor standards, but also with higher-level thinking analysis skills.
- Specific questions for traits categorized, clearly denoted
- Suggestions for use
- 36 ready-to-go questions
- Great design, 100% editable text inside of Google slides
- Tutorial on how to share with students
You can have these ready and send them out a moment's notice to conduct an amazingly in-depth lesson. Your students will love that they are interactive and virtual. You will love that your students are thinking critically and meeting standards. Your admin will love that students are engaged and that you've differentiated your lesson!
Classroom success stories from other teachers who have tried this resource:
♥ "Thank you so much for this lesson! This is exactly what I've been looking for! Excellent work and a steal at this price! Thanks!"
♥ "Student evaluation truly makes students better writers, thanks!"
♥ "Great for evaluating a published author or for evaluating a peer's writing. I intend to use in a writing center."
♥ "I LOVE these task cards! It turns the conversation away from me and getting few responses to the kids and getting everyone to respond! They work in smaller groups and are on task, leading their own discussions! A teacher's dream!"
More support is available for teaching with model papers:
Free video at my Facebook page on using task cards in station rotation.
Free video tutorial on a method for analyzing model papers.
Free story on my Instagram setting up task cards in station rotation.
This resource is included in my Writing Curriculum.
Be the first to know about my new discounts, freebies and product launches. Look for the green star next to my store logo and click it to FOLLOW ME. Voila! You will now receive email updates about my store.
For more ideas and inspiration:
Julie's Classroom Stories on Facebook
Teaching Tidbits Newsletter with Email-Only Freebies
Terms of Use: Please one classroom use only. Not to be shared online without proper security. Additional licenses sold at a discount at checkout. No part of this resource can be used for commercial purposes, altered, or resold.
Answer Key
Does not apply
Report this Resource to TpT
Standards
to see state-specific standards (only available in the US).
Use technology, including the Internet, to produce and publish writing and to interact and collaborate with others.
Develop and strengthen writing as needed by planning, revising, editing, rewriting, or trying a new approach.
Produce clear and coherent writing in which the development, organization, and style are appropriate to task, purpose, and audience.
Write narratives to develop real or imagined experiences or events using effective technique, well-chosen details, and well-structured event sequences.
Write informative/explanatory texts to examine and convey complex ideas and information clearly and accurately through the effective selection, organization, and analysis of content.