Sarcasm Practice Social Language Activity Worksheets BOOM CARDS™ Speech Therapy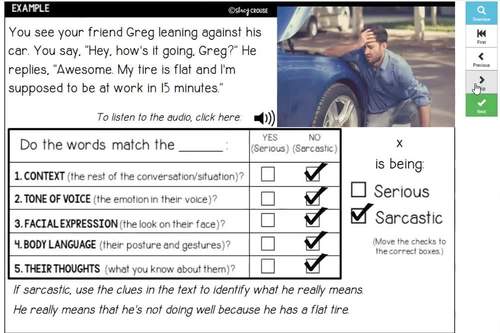 ;
45 unique pages, plus a link to a Boom Cards deck
Easel Activity Included
This resource includes a ready-to-use interactive activity students can complete on any device. 
Easel by TPT is free to use!
Learn more
.
Compatible with Digital Devices
The Teacher-Author has indicated that this resource can be used for device-based learning.
What educators are saying
This resource was engaging and my students loved it! I'll get a ton of use out of this product as a school speech-language pathologist!
This absolutely came at the correct time. I am struggling teaching my high schooler about sarcasm. This resource was a perfect fit. Thanks so much
Also included in
6 SOCIAL LANGUAGE activities in one money-saving bundle! This collection of resources covers a variety of pragmatic language topics related to having CONVERSATIONS and understanding body language and NONVERBAL COMMUNICATION. Build your social language therapy toolbox with these best-selling activit

Price $37.50

Original Price $44.00

Save $6.50
Description
Teach your speech therapy students how to UNDERSTAND and USE SARCASM appropriately in social situations.... using REAL PHOTOS! This activity includes printable worksheets AND a Boom Cards deck, and provides a structured way for students to fully grasp this figurative language skill!
With this unit, you will have a clear-cut and methodical system for teaching an otherwise abstract concept.
First, the included MINI-LESSON introduces the concept of sarcasm.
Then, an organized CHECKLIST helps walk students through the process of identifying sarcasm being used in photos depicting real-life examples. AUDIO CLIPS ARE INCLUDED to help analyze tone of voice.
Lastly, students practice generalizing the USE of sarcasm. The provided list of "Dos and Don'ts" helps students determine if and how sarcasm may be used in more scenarios.
Here's what you'll get:
Two PDFs (one with color photos and one in grayscale for easy printing)
A BOOM CARDS deck (Click here for a PLAYABLE PREVIEW!)
A TpT EASEL Activity
A file containing 21 AUDIO CLIPS (m4a format) of myself reading the descriptions of the pictures from the activity described above where the student is identifying if sarcasm is being used.
Take the guesswork out of teaching sarcasm to your students, and use this tool to help your students understand sarcasm and begin generalizing the skill in their own lives.
❤️BUNDLE & SAVE on more social language activities❤️
SLPs and teachers like you have said....
⭐️⭐️⭐️⭐️⭐️ Debbie C. says, "I was so pleased and impressed with the real-life pictures, It has been so fun to use with middle school students on my caseload. They were highly motivated and engaged with the activity."
⭐️⭐️⭐️⭐️⭐️ Cammy G. says, "This is a great tool for supporting the use of tone and nonverbal language, helping my students become aware of tone and meaning through this resource has been fantastic"
Check out more ideas to facilitate pragmatic language and working with social groups in teletherapy!
Total Pages
45 unique pages, plus a link to a Boom Cards deck
Report this resource to TPT