Schedule Cards, Alphabet Cards, Job Chart, Calendar, Center Signs, Color Posters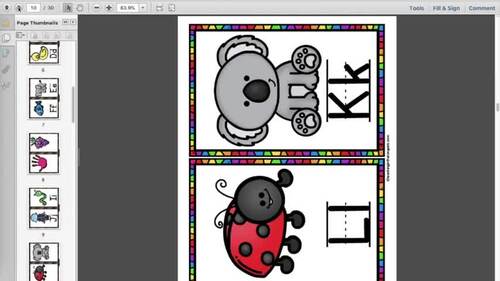 ;
Includes Google Apps™
This bundle contains one or more resources with Google apps (e.g. docs, slides, etc.).
What educators are saying
I loved the schedule cards! The pictures on then were great for the students who were not reading yet.
Products in this Bundle (6)
showing 1-5 of 6 products
Description
This Primary Classroom Management Decor Bundle is perfect for really any Preschool, Kindergarten, First and even Second grade classroom! Functional and colorful decor that actually serves a purpose: learning!
EDITABLE Classroom Job Chart:
Use in a pocket chart, on your whiteboard or make it magnetic! Included in this editable Powerpoint file you will find blank job chart templates, a title card (Class Jobs), blank student cards (to velcro on the job cards and rotate students), and prefilled job cards including: Bell Ringer, Line Leader, Caboose, Prayer Helper, Calendar Helper, Door Holder, Plant Waterer, Flag Holder, Hand Sanitizer, Lunch Helper, Weather Helper, Table Cleaner, Pet Helper, Library Helper, Energy Saver, Games Helper, Name Helper, Gym Shoes, Pencil Helper, Phone Assistant, Teacher Assistant, Greeter, Snack Helper, Nurse's Helper, Mail Assistant, Tech Support, Class Photos, Trash Collector, Board Cleaner, Morning Meeting, Chair Helper, Filing Helper. The graphics and text in the prefilled cards are secure (you CANNOT edit those cards). 
Daily Schedule Cards:
These fun, bright EDITABLE schedule cards come with AND without clocks and are great for creating a visual schedule of your day! These colored cards fit perfectly in a pocket chart, or along a ribbon strip, or use with magnetic dots/tape on a magnetic surface! How you display them is up to you! Easily change out cards and/or clock times with just a dry-erase marker! I have also included blank templates with just a border and no graphic so you can add your own specialized graphics if you'd like! VERY IMPORTANT: The included graphics you see in the previews ARE NOT editable (you WILL NOT be able to resize, delete or adjust them in any way).
Alphabet Cards and Alphabet Chart:
This Alphabet Card set comes in fun, rainbow design! Included in this file you will find vibrantly colored alphabet cards (sized at 2 per page), and a BONUS matching Alphabet Sounds chart (student size 8.5x11 reference page--perfect for small group work, but print it LARGE to create a classroom poster!).
Center Signs:
If you're looking for an easy way to manage your daycare, preschool, kindergarten centers, or first grade centers, I've got the solution! These center signs are perfect for using as a center clip chart or center rotation board, whichever you prefer! This resource includes teacher tips and tricks, Centers title card, colored group cards (6 colors), and signs for each of the following centers: Meet with the Teacher, Kitchen, Art, Easel, Dry Erase, Dough, Alphabet, Phonics, Crafts, Blocks, Computer, Typing, Discovery, Dress Up, Tablet, Library, Science, STEAM, Math, Music, Cars, Stamps, Writing, Listening, Puzzles, Puppet, Dramatic Play, Sensory Table, Dollhouse. I'm also included editable signs (border and graphic without text) so you can type your own! All signs are 11x8.5 and directions to print smaller are included.
Calendar Math Kit:
This Calendar Math Kit comes in a fun, rainbow decor design and is perfect for the primary classroom! Use in a pocket chart, on your whiteboard or make it magnetic! Included in this file you will find: Months of the Year, Days of the Week, Calendar days, Holiday cards, Today is, Tomorrow will be, yesterday was cards, Date cards, Today's weather Chart, Season Chart, Today's Number, Today's Pattern, Coin Counting (and coins), Coin Values chart, Telling Time chart, 3d and 2d shape cards, 0-10 cards (written number, digit, counting fingers and corresponding 10 frame), 0-100 and 0-200 Chart
Color Posters:
This Color Poster set includes 8.5x11 posters with images to match each color (red, orange, yellow, green, blue, purple, pink, brown, grey, black, white).
All rights reserved © Teaching in the Tongass
Report this resource to TPT