Scholarly Research Project: Qualitative Research Paper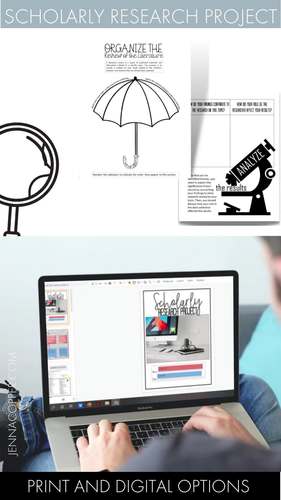 ;
9

th

- 12

th
,
Higher Education
,
Adult Education
Also included in
If you are new to teaching AP Lang or your AP Lang curriculum needs an upgrade, this AP Lang Growing Curriculum Bundle is for you! I know if you're reading this, you're an AP Lang teacher who is looking for a curriculum that is engaging, 2020 AP Lang CED aligned, research-based, thorough, and effect

Price $100.00

Original Price $124.00

Save $24.00

This growing bundle includes all of my writing resources at a 15% off discount versus buying them separately.A growing bundle means that as I finish new writing resources, I will add them to this bundle, and you will have automatic access to ALL updates for free just by re-downloading it from your p

Price $42.50

Original Price $50.00

Save $7.50
Description
Teach your students to think, read, and write like a researcher with this comprehensive Scholarly Research Project unit. This resource is a complete qualitative research unit that will walk your students through the scholarly research process with the following steps:
1. Review the requirements
2. Understand the objective
3. Plan the methods
4. Propose the project
5. Collect sources
6. Write the introduction
7. Organize the review of literature
8. Take notes
9. Design the instrument
10. Collect data
11. Identify themes
12. Analyze the results
This resource will teach your students an appreciation for the rigor that is required for scientific research versus opinion-based writing.
The requirements, topics, and objectives are editable with text boxes in PowerPoint. Please note, only the text is editable on these pages.
In addition to the visual guide for students, an editable APA Writing Outline (Word Doc and Google Doc) is included to guide students through the APA format and content.
Finally, an editable Word Doc rubric is included for assessment.
*Check out the preview!*
Teaching Duration
1 month
Report this resource to TPT
Standards
to see state-specific standards (only available in the US).
Write arguments to support claims in an analysis of substantive topics or texts, using valid reasoning and relevant and sufficient evidence.
Introduce precise, knowledgeable claim(s), establish the significance of the claim(s), distinguish the claim(s) from alternate or opposing claims, and create an organization that logically sequences claim(s), counterclaims, reasons, and evidence.
Develop claim(s) and counterclaims fairly and thoroughly, supplying the most relevant evidence for each while pointing out the strengths and limitations of both in a manner that anticipates the audience's knowledge level, concerns, values, and possible biases.
Use words, phrases, and clauses as well as varied syntax to link the major sections of the text, create cohesion, and clarify the relationships between claim(s) and reasons, between reasons and evidence, and between claim(s) and counterclaims.
Establish and maintain a formal style and objective tone while attending to the norms and conventions of the discipline in which they are writing.