Science Curriculum kindergarten and 1st Grade Yearlong BUNDLE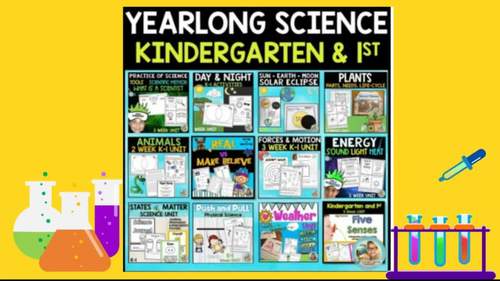 ;
Easel Activities Included
Some resources in this bundle include ready-to-use interactive activities that students can complete on any device. 
Easel by TPT is free to use!
Learn more
.
What educators are saying
This was a great resource! I used it for both distance and in-person learning. The graphics were fun and meaningful and many of the topics aligned with our curriculum.
Products in this Bundle (16)
showing 1-5 of 16 products
Also included in
EVERYTHING you need to teach KINDERGARTEN all YEAR! Are you looking for engaging activities for EVERY subject area in Kindergarten? I have you covered with this HUGE Endless Curriculum Bundle of Bundles with a MASSIVE AMOUNT of materials made with KINDERGARTEN in mind! *Assessments IncludedYEAR-LON

Price $191.50

Original Price $382.99

Save $191.49
Description
Looking for a comprehensive and engaging science curriculum designed for whole-group or easily followed in a homeschool setting for the entire YEAR? I have you covered! This includes 12 UNITS with inquiry lessons, STEM activities, data notebooks, rubrics, print-and-go worksheets, home projects, and so much MORE!
Check them all out with the links below. These units hit both Kindergarten and First Grade Benchmarks.
What's Inside This Download?
BONUS - Butterfly Life Cycle Flip Book & A Standards Checklist for K-1 Science

Try the FREE SAMPLE to see what is inside.
What About Standards?
The units are based upon common state science standards as well as the Next Generation Science Standards! Within the units, you'll see those commonly used phrases of science power standards across state to state. Not only do the units hit Science Standards, but they also hit many Language Arts Standards as well. Most units have data journals, rubrics, self-assessments, and posters.
See the PREVIEW to see what standards are met for each unit.
Products in this bundle are updated frequently to keep current.
BONUS (Download the Bonus Standards Check Off List)
Related Product:
Social Studies K-1 Curriculum for the YEAR
Copyright © 2017 Teacher's Brain (updates happen regularly)
All rights reserved by author.
How to get TPT credit to use on future purchases:
• Please go to your My Purchases page (you may need to login). Beside each purchase you'll see a Provide Feedback button. Simply click it and you will be taken to a page where you can give a quick rating and leave a short comment for the product. Each time you give feedback, TPT gives you feedback credits that you use to lower the cost of your future purchases. I value your feedback greatly as it helps me determine which products are most valuable for your classroom so I can create more for you. ☺
Be the first to know about my new discounts, freebies and product launches:
• Look for the green star next to my store logo and click it to become a follower. Voila! You will now receive email updates about this store.
☺ First 24 HOURS of new products over $1 are ½ off!
➤Follow my Teacher's Brain BLOG
Report this resource to TPT
Standards
to see state-specific standards (only available in the US).
Develop a simple sketch, drawing, or physical model to illustrate how the shape of an object helps it function as needed to solve a given problem.
Make observations to determine the effect of sunlight on Earth's surface. Examples of Earth's surface could include sand, soil, rocks, and water. Assessment of temperature is limited to relative measures such as warmer/cooler.
Analyze data from tests of two objects designed to solve the same problem to compare the strengths and weaknesses of how each performs.
Ask questions, make observations, and gather information about a situation people want to change to define a simple problem that can be solved through the development of a new or improved object or tool.
Use a model to represent the relationship between the needs of different plants or animals (including humans) and the places they live. Examples of relationships could include that deer eat buds and leaves, therefore, they usually live in forested areas; and, grasses need sunlight so they often grow in meadows. Plants, animals, and their surroundings make up a system.