Science Experiments and Hands-On Social Studies Activities for Summer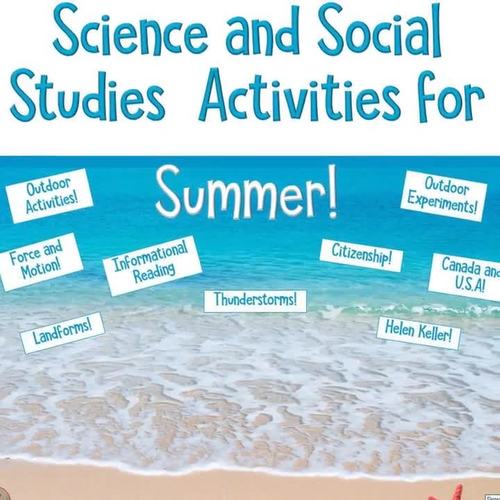 ;
Also included in
These resources help you find time for seasonal Science and Social Studies with high-interest activities that are integrated into reading and writing! Why use this collection in the classroom? These subjects are tough to fit into the day, but when combining important reading and writing skills with

Price $45.75

Original Price $91.50

Save $45.75

The end of the school year can be a time to celebrate a year of learning and community. Make the end of the school year easier for you and valuable for the students! Plus, grab this bundle of fun worksheets, activities, and printables at a HUGE bargain!Why use End of Year Collection: Review and Cele

Price $27.50

Original Price $55.00

Save $27.50
Description
This time-saver contains 10 different hands-on Science and Social Studies high-interest activities that are integrated into reading and writing!
These subjects are tough to fit into the day, but when combining important reading and writing skills with these fun activities, the children are engaged, learning, and having fun! In the primary grades, most of the time is spent on literacy activities, but the children are drawn to learning about their world. These resources are motivational for the children while allowing the practice of their important literacy skills.
This summer collection has several age-appropriate Science and Social Studies activities. Many of the activities are hands-on experiments and exercises that involve high interest for the children. Other activities involve high-interest passages for the children to read and interact with.
I developed these activities to make it easier to squeeze these important subjects into my second grade classroom.
Thunderstorms mini-information booklet
Make a Thunderstorm Experiment
Does it Float? activity
Exploring Force and Motion with swings
Exploring Shadows
Independence Day -close read
Making Sand Landforms
Helen Keller mini-information booklet
Being a Good Citizen activity
Canada, U.S.A, or Both? Sorting activity
Be sure to download the preview file for a better understanding of what is contained in this resource. Thanks!
Daily Calendar Questions for the Whole Year This resource gives some information about each day, and poses questions that can be used for discussions and writing prompts.
For End of the Year and Summer Activities see: Summer/ Review Resources
Go to your My Purchases page. Beside each purchase, you'll see a Leave a Review button. Simply click it and you will be taken to a page where you can give a quick rating and leave a short comment on the product.
Each time you give feedback, TPT gives you feedback credits that you use to lower the cost of your future purchases.
Feedback is greatly appreciated, and helps sellers create better resources!
*************************************************************************************************************
Be sure to click on the green ★ to follow me for updates and announcements of new resources!
*************************************************************************************************************
Designed by Sally of Elementary Matters. elementarymatters@gmail.com
♦ If you like what you see here, see my social media HERE.
Report this resource to TPT
Standards
to see state-specific standards (only available in the US).
Ask and answer questions about key details in a text.
Identify the main topic and retell key details of a text.
Describe the connection between two individuals, events, ideas, or pieces of information in a text.
Ask and answer questions to help determine or clarify the meaning of words and phrases in a text.
Know and use various text features (e.g., headings, tables of contents, glossaries, electronic menus, icons) to locate key facts or information in a text.