Science Sub Plans Bundle: National Parks Script Text Worksheet | Back to School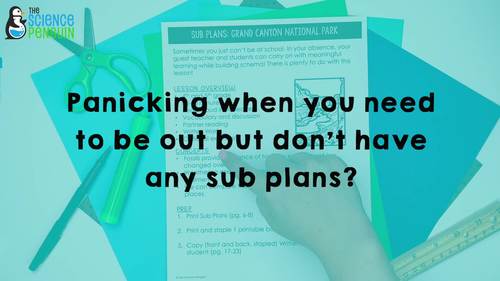 ;
What educators are saying
Great to print for an emergency sub plan binder!! Highly recommend teachers - no need to stress over emergency sub plans!!
This has lot of really good information and activities. It goes great with national geographic videos about the parks!
Products in this Bundle (5)
Description
This science sub plans bundle is for 4th and 5th grade science. Prep it in advance as an emergency sub plans or use them on the go.
Sometimes you just can't be at school. In your absence, your guest teacher and students can carry on with meaningful learning while building schema! There is plenty to do with these lessons!
In this bundle, buy 4 and get 1 free! The National Parks Science Sub Plans Bundle includes 5 easy prep sub plans. Print, copy, and go!
This resource includes:
Quick Prep Info
Lesson Directions and Script
Challenging text for a read-aloud and partner reading
Written Work: 10 questions
Schema-building information
Stunning photography
Answer Key
Optional no-prep extension in case there is extra time
Lessons and Concepts:
LIFE: Physical characteristics of the environment support the plants and animals that live there.
LIFE: External structures of plants and animals help them survive in their environments.
Fossils provide evidence of how the environment has changed over time.
Weathering and erosion break down rocks and move sediments.
We can compare the weather and climate of different places.
PHYSICAL: Cobble beaches include mixtures with ingredients that maintain their physical properties and can be easily separated.
EARTH: Glaciers change Earth's surface.
LIFE: Animals in tidepools obtain energy from plants and other animals.
PHYSICAL: Chemical change can result in different colors of rocks.
EARTH: Sand dunes are formed by wind depositing sediments.
LIFE: Animals in Death Valley have unique structures that help them survive extreme temperatures.
PHYSICAL: Water can be in solid, liquid, or gas form.
EARTH: Volcanoes change Earth's surface.
EARTH: The geosphere and hydrosphere interact in interesting ways.
EARTH: Landforms are created in various ways.
_____________________________
Product Info
The PDFs are not editable.
Please view the preview for a closer look.
These lessons do not require technology as long as the copies are left for the guest teacher.
This bundle and its individual contents are not included in any other bundle.
_____________________________
Teachers love it!
⭐️⭐️⭐️⭐️⭐️ "This was great for sub plans! Nicely laid out instructions for the guest to follow and just printing on my part. Very convenient for me and engaging for the students. I enjoy having content for the students to still be learning so it isn't a loss of a day, if and when I have to be away and this did just that. I also got compliments from the sub who was thrilled to have something thorough planned for her and once again not me, ALL YOU. Thank you!" -Katherine R.
⭐️⭐️⭐️⭐️⭐️ "My sub reported that the students were super engaged with the lessons and that they had great conversations about the topics. Love that the sub plans are so detailed that anyone could teach it! Looking forward to using these again year after year!" -Ingrid B.
Report this resource to TPT