Science of Reading Decodable Readers and Decodable Passages for Readers Theater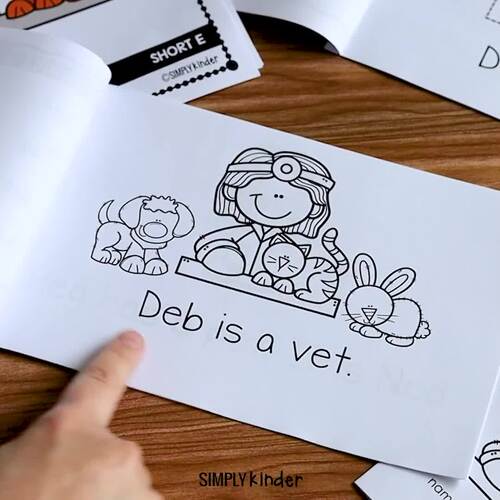 ;
Includes Google Apps™
This bundle contains one or more resources with Google apps (e.g. docs, slides, etc.).
Products in this Bundle (2)
Description
Looking for the perfect decodable readers with phonics word work activities & decodable readers theater that align with the Science of Reading?  Simply Kinder has you covered with the mega Science of Reading decodable bundle.
More about the Best-Selling Decodable Readers & Word Work:
Included in this resource is one individual, 70+ page resource PER decodable book.  Each book has a cover page, a keyword warm-up page with decodable words & sight words, and a 6-page story focusing on a phonics pattern.
Individual Decodable files will be available for $5 each.
Decodables come in these formats:
traditional decodable reader, horizontal orientation with words and pictures
picture-less decodable where students can draw or glue in pictures
foldable decodable book, no cutting or stapling
full-size decodable books in black and white and color
Small-Group Aides Included:
student keyword cards with clipart of decodable word and the word itself (comes with and without sight words)
student warm-up card to practice focus decodable pattern and sight words from the story
word wall-sized word cards to use at your small group table with picture support and without
student decodable cards can be put in baggies or stapled to make a practice book, these come in several versions including with words and pictures and with pictures and no words
Word Work Printables Included:
Tapping Words, students will tap the sounds and write the word (includes the exact number of taps on printable)
Tap Color Write, students tap and color in the number of sounds they hear before they write the word
Cut and Glue Activities, multiple printables to match the key decodable pictures to the words
Centers and Activities Included:
Picture Cards for decodable words in color and black and white
Center Card for those picture cards to draw it, tap it, write it, and build it
Making Words letter tiles to make the decodable words in the story
Clip Cards matching the picture to word and word to picture for decodable words
Four in a Row Partner game using decodable words
Foldable Word Books in several versions including writing the word for the picture shown and gluing the word for the picture shown
Print and Digital.  All Decodables and Word Work comes in print and some come in Google and Seesaw formats too.  Seesaw is really neat because it includes pre-loaded voice directions and your students are asked to record themselves reading the story back to you.
These readers are stories and not repetitive text. Books are organized by spelling pattern so they can weave into YOUR scope and sequence easily and not in this order (even though numbered here in the listing).
Currently included:
CVC Short A – Dan and Tam
CVC Short A – Stan Can Nap
CVC Short A – Nat the Bat
CVC Short E – Deb the Vet
CVC Short E – Meg the Hen
CVC Short E – My Red Jet
CVC Short I – Fin Digs
CVC Short I – The Big Rip
CVC Short I – Zip is Six
CVC Short O – Mom's Box
CVC Short O – The Fox
CVC Short O – The Hot Pot
CVC Short U – Fun in the Tub
CVC Short U – My Bug
CVC Short U – On the Bus
CVCe A – The Lake Date
CVCe A - The Big Game
CVCe A - Jane's Cape
CVCe I – The Hike
CVCe I - Mike's Bike
CVCe I - My Kite
CVCe O – The Lost Bone
CVCe O - Sick at Home
CVCe O - My Rose
CVCe U - The Cute Mule
CVCe U - My Sis June
CVCe U - My Flute
Digraph CK - Bad Luck
Digraph CK - Nick's Fish
Digraph CK - Rick is Sick
Digraph SH – Shep's Wish
Digraph SH - Dash's Big Bash
Digraph SH - In A Rush
Digraph CH - Chad at Lunch
Digraph CH - Chet Bakes
Digraph CH - The Chest
Digraph TH - We Like Math
Digraph TH - Bath Time
Digraph TH - The Big Thud
Digraph WH - Whit's Day (New Jan 2023)
Digraph WH - Where is it? (New Jan 2023)
Digraph WH - Wes the Whale (New Jan 2023)
Digraph NG - We Like to Jam (New Jan 2023)
Digraph NG - Bee Sting (New Jan 2023)
Digraphs (Mixed) - My Mad Sis (New Jan 2023)
Digraphs (Mixed) Let's Munch (New Jan 2023)
Digraphs (Mixed) Ben the Whale (New Jan 2023)
Long EE - The Street
Long EE - My Feet
Long EE - The Reef
L Blends - Sloths
L Blends - The Big Slide
L Blends - The Blimp
R Blends - Let's Run
R Blends - My Big Trunk
R Blends - My Prize
S Blends - Make Smores
S Blends - My Pet Snake
S Blends - My Pup Spot
W Blends - Me and My Twin
W Blends - Pigs
Vowel Team AY - Play Time (New Jan 2023)
Vowel Team AY - Pay Day (New Jan 2023)
Vowel Team AI - My Pet Snail (New Jan 2023)
Vowel Team AI - My Pain (New Jan 2023)
Vowel Team AI - The Stain (New Jan 2023)
Vowel Team OE - My Toe (New Jan 2023)
Vowel Team OA - My Pet Goat (New Jan 2023)
Vowel Team OA - Boat Ride (New Jan 2023)
This resource is ENDLESS.  This means that as we add new decodable sets to our store and this line they will be automatically included.  We are currently working on adding more CVCe and digraph books.  We plan on growing this bundle to include multiple books for each pattern you teach so you have a selection for your students.
NOTABLE REVIEWS:
⭐️⭐️⭐️⭐️⭐️ "Wow, just WOW!! If you have been searching for decodables WITH word work activities AND center activities, then you NEED this resource! This resource also aligns very nicely with the science of reading approach, which is a huge plus! I highly recommend this bundle!!!
⭐️⭐️⭐️⭐️⭐️ "Just started using this resource with my students and they love it! I especially love the variety of activities that I can choose from for each vowel. I send home the books for them to draw their own pictures after we read it together in class and work on the picture matching cut and paste activities during center time. Thank you for making such a bountiful endless resources for decodables. This is a real game changer!"
⭐️⭐️⭐️⭐️⭐️ "As a newbie to SoR , this resource is amazing and well worth the price! The Word Work activities that support the decodable are so helpful! Thank you for creating such great resources that we can just print and run with!"
More about the Decodable Partner Plays Passages for Readers Theater:
Students will love to practice decoding and fluency with these fun Partner Plays. Each play comes with several play formats as well as play accessories. Perfect for small groups or centers.
Included in this download:
This is a bundle of our Partner Plays. The play itself is 2 pages in length and focuses on phonics skills like CVC words or digraph EE (keep reading to see the plays included).
Each play is its own downloadable file with lots of options including:
Easy to read Partner Play that focuses on one phonics skill (like CVC words or EE).
Each play comes with warmup activities to practice the sight words and decodable words contained in the text.
Full-size play format with highlights and without. Words are nice and big and easy to follow.
Half-size play format with highlights and without. Copy back to back and fold in half. This format also includes 2 comprehension activities.
Each Play also comes with Play Accessories:
Character Hats to wear to help students identify as the character
Character Tags they can wear or just have on their table to identify as the character.
Play Scene where students can act out the play with puppets (color and black and white).
Play Character and Props cut-outs that students can use on their play scene.
Each Play also comes with accompanying printables to extend the learning:
Tap and Write with key decodable words
Cut and Glue Pages where students match picture to word and word to picture.
Four in a Row Partner Game where students practice reading focus words.
Multiple Choice Comprehension Pages, with pictures and without for differentiation.
Open-Ended Comprehension Question Pages where students write the answer in a sentence.
Writing Paper with the scene images on them to write about their play openly.
This BUNDLE currently includes:
CVC - Dad's Bag
CVC - Fun in the Sun
CVC - The Rat
CVC - The Vet
CVC - The Zoo
CVCe A - Fun at the Lake
CVCe A - Let's Bake
CVCe I - Bike Ride
CVCe I - The Bride
CVCe O - The Note
CVCe O - The Rope
CVCe U - Lunch with June
CVCe U - Rat's Tune
CVCE (all sounds) - The Kite
CVCe (all sounds) - We Can Skate
Digraph EE - The Bee
Digraph EE.- Time for Bed
Teacher Reviews:
⭐️⭐️⭐️⭐️⭐️ "This is absolutely AMAZING! My kids I have used it with were SOOO EXCITED! Great product and low prep!"
⭐️⭐️⭐️⭐️⭐️ ️️️"These plays are a great way to engage kiddos. It's a creative way for them to showcase all of the skills they have been working on throughout the year. I loved the way my students used their voice and fluency. It was super fun to watch!"
️️️️️⭐️⭐️⭐️⭐️⭐️"I've been looking for a way to incorporate drama into my class and this is PERFECT! I love how the students are able to showcase their individuality and creativeness while also practicing important literacy skills we have been working on. Partner Plays will quickly become one of my favorite activities to do in class. THANK YOU!"
You might also like these Top Selling Kindergarten Resources:
Stay up to date with all things Simply Kinder:
✅ Get our emails with weekly FREEBIES, special offers, & teaching ideas
✅ Follow us on Teachers Pay Teachers
Jennifer Kadar - Simply Kinder - Kindergarten - First Grade - Preschool
© Simply Kinder, LLC
For questions please email Hello@SimplyKinder.com.
Report this resource to TPT
Standards
to see state-specific standards (only available in the US).
Demonstrate understanding of the organization and basic features of print.
Follow words from left to right, top to bottom, and page by page.
Read and comprehend complex literary and informational texts independently and proficiently.
Prepare for and participate effectively in a range of conversations and collaborations with diverse partners, building on others' ideas and expressing their own clearly and persuasively.
Demonstrate command of the conventions of standard English grammar and usage when writing or speaking.