Scientific Method Bulletin Board - Science Classroom Decor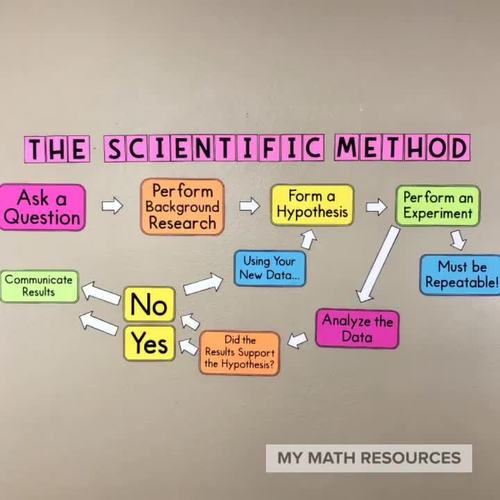 ;
What educators are saying
Hands down this is my favorite bulletin board in my classroom! It's cute without being cheesy for a middle school classroom.
Description
Help your students learn the scientific method with this large bulletin board poster that will look great on your word wall with your anchor charts! This poster comes with multiple size options!
The largest size is a bulletin board display that could take up half of your bulletin board or more, depending on the size options you choose!
Mount directly on your bulletin board or mount on the wall with tape.
There's a smaller size included which is a simplified version. The smaller poster includes only five panels: Question, Hypothesis, Prediction, Experiment, Analysis.
The large version is a more detailed look at The Scientific Method. This version is 11 panels: Ask a Question, Perform Background Research, Form a Hypothesis, Perform an Experiment, Must be Repeatable, Analyze the Data, Did the Results Support the Hypothesis, Yes, No, Communicate Results, Using your New Data.
This is a black and white poster. For best results, print on brightly colored paper or card stock and laminate!
The poster comes with three title sizes and three arrow sizes so you can create the size that works for you and your classroom!
Answer Key
Does not apply
Teaching Duration
Lifelong tool
Report this resource to TPT