Scientific Notation Lesson for Interactive Notebook - Includes Practice Problems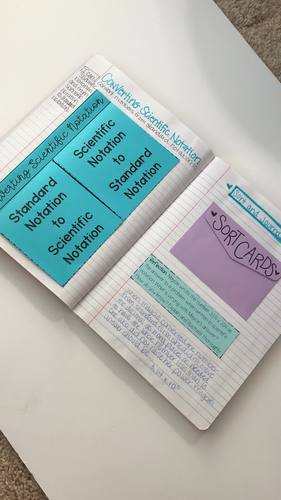 ;
9 pages- 1 teacher page, 3 photo pages, 2 flippable pages, 1 sort/journal, 1 practice page and 1 key
Description
Converting Scientific Notation doesn't have to be hard for your students! In this Interactive Notebook Lesson students will not only take fill-in-the-blank notes on Converting Standard Notation to Scientific Notation but also notes on Converting Scientific Notation to Standard Notation followed by a couple of examples for each. Once complete they will be able to continue with a sort where they match numbers written in standard notation as well as scientific notation. And no Interactive Notebook lesson would be complete with out some sort of reflection. This reflection will really make your students LOOK deeply into what is being asked!
This Interactive Notebook Lesson Includeds:
★ Scientific Notation Flippable for Interactive Notebook
★ Scientific Notation and Standard Notation Sort and Misconception Reflection Journal
★ Scientific Notation Practice Sheet with "I Can" statement "I can convert number from standard notation to scientific notation as well as scientific notation to standard notation."
★ Scientific Notation Practice Sheet Key
Once the students review the process of converting from scientific notation to standard notation (and vice versa) they are able to practice the steps together through the practice sheet.
*************************
→ Click here to visit my teaching blog,
Smith Curriculum and Consulting
→ Did you know that you can get
CREDITS
for future purchase by leaving feedback on each of your purchases? Simply navigate to the
My Purchases
page and next to each download you will be able to leave a star rating and comments about the activities you have purchased. I truly value your feedback and take into account each and every word left.
→ Please email me
here
with any questions or comments.
*************************
Personal Copyright:
The purchase of this product allows you to use these activities in your personal classroom for your students. You may continue to use them each year but you
may not share
the activities with other teachers unless additional licenses are purchased. Site and District Licenses are also available.
Flippables®
and
Interactivities®
are trademarks of FormulaFun, Inc., and are registered in the United States and abroad. The trademarks and names of other companies and products mentioned herein are the property of their respective owners. Copyright © Smith Curriculum and Consulting, Inc. All rights reserved.
Total Pages
9 pages- 1 teacher page, 3 photo pages, 2 flippable pages, 1 sort/journal, 1 practice page and 1 key
Report this resource to TPT
Standards
to see state-specific standards (only available in the US).
Perform operations with numbers expressed in scientific notation, including problems where both decimal and scientific notation are used. Use scientific notation and choose units of appropriate size for measurements of very large or very small quantities (e.g., use millimeters per year for seafloor spreading). Interpret scientific notation that has been generated by technology.