Scissor Skills Cutting Practice with Alphabet Tracing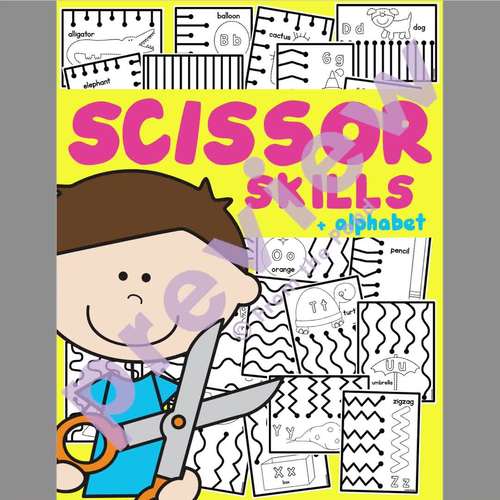 ;
Easel Activity Included
This resource includes a ready-to-use interactive activity students can complete on any device. 
Easel by TPT is free to use!
Learn more
.
What educators are saying
I have students who came into 1st grade struggling on how to cut paper. This resource has been such a fun resource for them!
Love this resource! My firsties needed a lot of fine motor practice after Zoom kindergarten and this was perfect! I love that they can complete it independently.
Also included in
This bundle is a convenient and value-packed way of securing 6 of our beautiful printable resources for developing scissor skills with your students. The fast-prep activities in these packs provide creative ways to encourage cutting practice forpreschoolkindergartenfirst gradeIncluded in the bundle

Price $27.00

Original Price $32.00

Save $5.00
Description
Make learning scissor skills fun and practical by integrating it with the alphabet and prewriting skills. Our fun activity pages are ideal!
We've added some basic 'alphabet' content to this set to maximise the learning potential on each page!
When students have finished the cutting activity they can also trace a picture, color the picture and learn to write the focus letter in upper and lower case.
The cutting tasks on each page:
get increasingly difficult
move from simple straight lines to curves and zig zags.
All cutting requires students to cut from the edge and stop 'at a point'. These are essential activities before students attempt learning to cut a complete shape.
2 sets are included! One set follows the alphabet from a to z with the pages progressing in difficulty in that order.
The second set's cutting order progresses in a similar manner but the alphabet letters are in a different order - M, S, T, N, A, R, L, D, F, I, V, P, K, X, E, B, J, O, C, H, U, W, G, Z, Y. New picture tracings are also included for variety!
This packet includes 52 fun pages and each has a different design and picture.
Bonus Digital Activity
As a bonus and to further develop your students fine motor skills I have included a 6-slide tracing activity for use with a digital device. Students will practice using the pen tool to trace a big clear picture and word.
You might also like to check out my resources for tracing and prewriting HERE
Find our 2D shapes pack for cutting practice and scissor skills
Report this resource to TPT