Scrubland Habitat Craft Activity | California Chaparral Diorama Project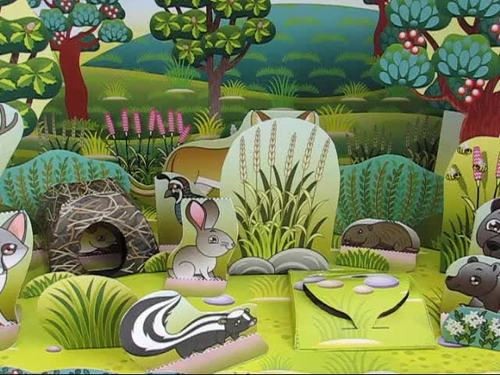 ;
Also included in
Animal habitat dioramas for kids to make: HUGE BUNDLE of beautiful animal habitat craft activities. More than 200 beautiful paper animal models and templates.Perfect to complement your studies on animal habitats and biomes. 21 beautiful diorama projects for children to make.Children can easily bui

Price $62.48

Original Price $124.95

Save $62.47
Description
Paper craft chaparral habitat / scrubland diorama project. Beautiful North American animal craft activity for children to make. Includes both a color and a black and white diorama template complete with background, base, scenery and creatures.
Visit the shrublands of the California chaparral with this fun papercraft activity. There's a woodrat hiding in his den made of sticks while the ground squirrel is hiding in the paper burrow. The mountain lion is creeping behind the bushes, watching the skunk playing in the grass. Lots of beautiful animals of the North American chaparral biome.
Kids will go wild for this fun animal habitat activity! Perfect to complement your studies on scrublands the animals who live there. Bring learning to life with this hands-on craft activity.
Children can easily build their own habitat diorama by cutting and gluing the pieces. Includes the base and background scene so you can create a stand alone diorama, or paste into a box to create a box diorama. You can also use the scenery to create a centre to use with your own animal toys, playdough or use the paper animals in your sand tray or block corner. Endless possibilities for fun with this colorful papercraft set! Perfect for an animal themed classroom! Can also be created as a file folder project.
Includes easy to follow instructions. Simply cut, fold and glue to create your very own animal habitat diorama complete with 3D burrow, plants, trees and animals!
Includes the following North American animals:
- Grizzly bear and cub
- Mule deer
- Quail
- California ground squirrel and 3D burrow
- Grey Fox
- Gopher
- Woodrat and 3D den
- Brush rabbit
- Red shouldered hawk
- Mountain lion
- Skunk
- Shrub with a hummingbird
- Flowers with bees
- also includes plants, rocks, trees.
The paper craft template is provided in a PDF file and is ready to print on US letter size card. For best results, print on card rather than paper.
Habitat scene (base and backdrop): 4 pages
Stand for back of set: 1 page
3D rocks, trees, plants: 3 pages
Animals: 4 pages
© GoWildWithPaper.com
Go WILD with paper have a wide selection of animal crafts, paper models and animal habitat dioramas! Your first stop for fun papercraft animals for kids!
_______________________________________________________
You may also like:
More North American Animal Crafts
More Animal Habitat Crafts / Diorama Projects
____________________________________________________
Tags: Chaparral diorama project, paper animal habitat model, papercraft activity, printable craft templates, 3D animal habitat art activity, animals that live in the scrubland biome, shrubland ecosystem craft, Californian animal craftivity #GoWildWithPaper
Report this resource to TPT