Sea Horse Shyest Fish in the Sea by Chris Butterworth Lesson Plan and Activities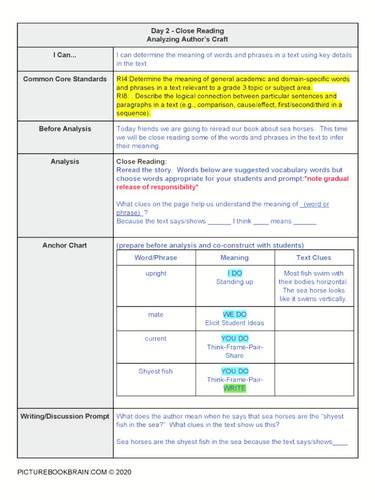 ;
Description
A guided reading or interactive read aloud lesson plan for the informational mentor text picture book Sea Horse The Shyest Fish in the Sea by Chris Butterworth and John Lawrence. Great as part of an nonfiction unit, ocean or sea creatures study!
Lessons and activities focus on:
sequencing
close reading for inferring meaning of unknown vocabulary words
text evidence to determine the main idea and details
The lesson plans include:
teacher script with strategic stopping points and questions for students to discuss
printable prompts for student post-reading responses through discussion in writing or reading response logs
4-5 day plan
Discussion questions
Suggested discussion strategies
Strategic stopping points for questioning and close reading
Anchor chart examples
Sentence stems / frames for oracy and vocabulary development
Great for bilingual classrooms
Printable worksheets for written responses in a reading log
How to Use This Resource:
whole group
small group
as a reading  intervention
special education (SPED)
bilingual or Dual Language / DLI classrooms
with ELLs for ESL instruction
Great for K, 1st, 2nd, or 3rd grade
Your Kindergarten, first, second, or third grade students will love this story!
✰ ✭ ✰ ✭ ✰ ✭ ✰ ✭ ✰ ✭ ✰ ✭ ✰ ✭ ✰ ✭ ✰ ✭ ✰ ✭
You May Also Like:
Report this resource to TPT
Standards
to see state-specific standards (only available in the US).
Ask and answer questions about key details in a text.
Identify the main topic and retell key details of a text.
Describe the connection between two individuals, events, ideas, or pieces of information in a text.
Ask and answer questions to help determine or clarify the meaning of words and phrases in a text.
Use the illustrations and details in a text to describe its key ideas.