Seasonal Digital Mystery Picture BUNDLE for Multiplication Facts to 12's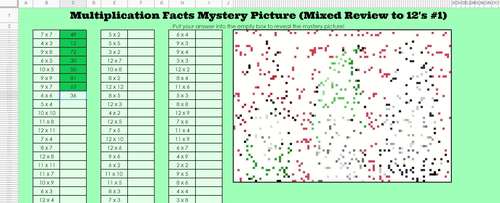 ;
Zip

Google Apps™

Internet Activities
Includes Google Apps™
This bundle contains one or more resources with Google apps (e.g. docs, slides, etc.).
What educators are saying
I was hybrid this year and used this resource both in class and online. This resource was very engaging for my students to practice their math facts
Products in this Bundle (12)
showing 1-5 of 12 products
Description
Are you looking for a fun way to engage your students in multiplication fact practice? Your students will love practicing their multiplication facts with digital mystery pictures. Also known as a mystery pixel activity, these self-correcting multiplication fact practice activities are self-correcting and make great independent work. Students will type in answers to the problem. If the answer is correct, the answer box will turn green and a portion of the mystery picture will automatically appear. If the answer is incorrect, the answer box will turn red allowing the student to try again. This digital math practice is a great math center or practice activity. Perfect for use in the classroom at home learning. View the preview videos to see the digital mystery pictures in action!
Seasonal Digital Mystery Picture Bundle (aka Mystery Pixel ) for Multiplication Facts includes:
3 Fall Digital Mystery Pictures
3 Winter Digital Mystery Pictures
3 Spring Digital Mystery Pictures
3 Summer Digital Mystery Pictures
More Digital Mystery Pictures for Math Facts!
Division Facts Digital Mystery Picture Bundle and Save!
Digital Multiplication Facts Mystery Pictures BUNDLE
Follow Me and be notified when new resources are added. New classroom resources are always 50% off for the first 24 hours!
Report this resource to TPT
Standards
to see state-specific standards (only available in the US).
Multiply one-digit whole numbers by multiples of 10 in the range 10–90 (e.g., 9 × 80, 5 × 60) using strategies based on place value and properties of operations.
Multiply a whole number of up to four digits by a one-digit whole number, and multiply two two-digit numbers, using strategies based on place value and the properties of operations. Illustrate and explain the calculation by using equations, rectangular arrays, and/or area models.
Fluently multiply multi-digit whole numbers using the standard algorithm.
Determine whether a group of objects (up to 20) has an odd or even number of members, e.g., by pairing objects or counting them by 2s; write an equation to express an even number as a sum of two equal addends.
Use addition to find the total number of objects arranged in rectangular arrays with up to 5 rows and up to 5 columns; write an equation to express the total as a sum of equal addends.