Second Grade Digital Math Warmups Boom Cards™ {ELA} Weeks 21-24 | Daily Language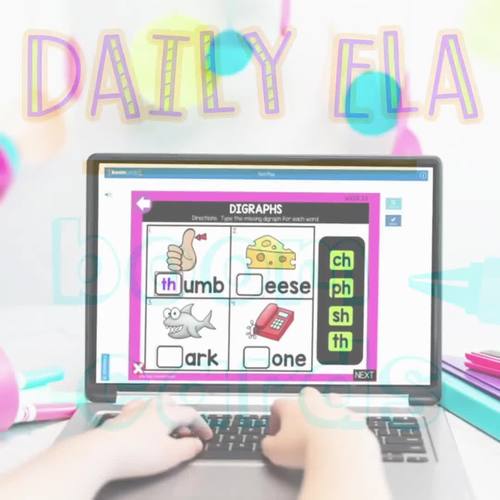 ;
Compatible with Digital Devices
The Teacher-Author has indicated that this resource can be used for device-based learning.
What educators are saying
This is set up so nicely for a daily morning review. Great, easy to follow instructions. There is a good amount of challenge. Thank you.
Products in this Bundle (4)
Description
ELA Morning Work 2nd Grade Boom Cards WEEKS 21-24
Who is ready to give morning work to their students and have instant feedback? I have taken my popular morning work and created boom cards from it.
*Audio is included for the directions on each task card.
This bundle includes:
2nd Grade ELA Morning Work Week 21
2nd Grade ELA Morning Work Week 22
2nd Grade ELA Morning Work Week 23
2nd Grade ELA Morning Work Week 24
SAVE BIG WITH THE YEARLY BUNDLE
This set is divided among 5 days (50 task cards). Each day is color-coded and consists of 10 cards with some cards having multiple problems on the task card.
The first page is the menu and will help students navigate to get to the correct day for that week. Once a student finishes the last task card for the day, they will automatically be taken back to the menu.
Each month concentrates on certain skills that also spiral throughout the month (and month to month). I used these with my students last year and it was amazing to see their growth. Each month progressively gets more challenging and works on skills that 2nd graders need to know.
Here are the skills included in weeks 21-24
►Contractions
►Irregular Verbs
►Antonyms
►Multiple Meaning Words
►ABC Order to the 2nd Letter
►Pronouns
►Adjectives
►Spelling
►Sight Words
►Questions
►Vowel Sounds
►Compound Words
►Fix the sentence
►Nouns or Verbs
►Nouns
►Syllables
►Synonyms
►Pronouns
►Sight Words
►Boggle
►Hard G Sound
►Vowel Sounds
►ABC Order
►Word Ladder
►Prefixes
►Writing a Question
►Suffixes
►Plural Nouns
HOW TO USE:
Just download the PDF. Click on the image and it will take you to the page where you will make a copy. You MUST use this with Google Slides, Forms, and Google Classroom. You simply need to assign the Slides and Forms to students and they are ready to go!
QUESTIONS OR CONCERNS
Email me at teachingsecondgrade@aol.com if you have any questions or concerns about this product. If you are not sure that this product will work for you, please check out one of the freebies. Keep in mind that the preview shows you what the game is going to look like.
★LET'S GET CONNECTED!★
TEACHING SECOND GRADE FACEBOOK
TEACHING SECOND GRADE PINTEREST
TEACHING SECOND GRADE INSTAGRAM
◼◼HOW TO GET CREDIT TOWARDS FUTURE PURCHASES!◼◼
Go to your My Purchases page. Next to each purchase you will see a "Provide Feedback" button. Click on that button and it will take you to a page where you can leave a rating and a comment about the product.
Every time you provide feedback, you will earn TPT credits. These can be applied to future purchases to save you money! Yay!
☛☛FOLLOW MY TPT STORE☚☚
Click the green star beside my name at the top of this page OR at the top of my store page. By doing this, you will see when I add a new products or have upcoming sales!
>>TERMS OF USE<<
All rights reserved. Purchase of this item entitles only the purchaser the right to reproduce the pages for classroom use only. Duplication for an entire school (system) or commercial purposes is strictly forbidden without written permission from the author. Copying any part of this product and placing it on the internet, in any form (not even on a personal / classroom website) is strictly forbidden. This is a violation of the Digital Millennium Copyright ACT or DMCA. These items can and will be traced back to the publishing site.
Report this resource to TPT
Standards
to see state-specific standards (only available in the US).
Tell and write time from analog and digital clocks to the nearest five minutes, using a.m. and p.m.
Understand that the three digits of a three-digit number represent amounts of hundreds, tens, and ones; e.g., 706 equals 7 hundreds, 0 tens, and 6 ones. Understand the following as special cases:
Compare two three-digit numbers based on meanings of the hundreds, tens, and ones digits, using >, =, and < symbols to record the results of comparisons.
Fluently add and subtract within 100 using strategies based on place value, properties of operations, and/or the relationship between addition and subtraction.
Recognize and draw shapes having specified attributes, such as a given number of angles or a given number of equal faces. Identify triangles, quadrilaterals, pentagons, hexagons, and cubes.