Second Grade Google Classroom BUNDLE (all 2nd grade topics - distance learning)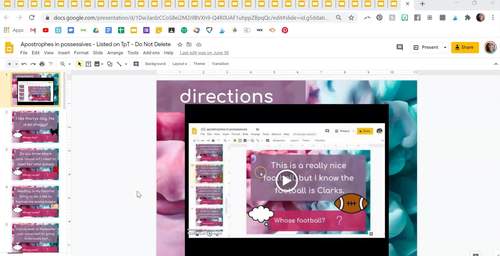 ;
PDF

Google Apps™

Internet Activities
Includes Google Apps™
The Teacher-Author indicated this resource includes assets from Google Workspace (e.g. docs, slides, etc.).
Description
PLEASE NOTE: If you have previously purchased any of my other Google Classroom bundles (ELA #1, ELA #2, Math #1, or Math #2) these are the SAME PRODUCTS. I have just bundled them differently for those just wanting to focus on second grade material.
➜Will you be teaching virtually at any point this upcoming school year? Will you be setting up your classroom on Google Classroom? Do you want your students to have FUN while learning on their computers? Look no further!
✨Welcome to my Second Grade Google Classroom Bundle!✨
This bundle has TONS of topics that get covered in 2nd grade. Students will actually want to get on their computers and complete these activities because it lets them interact in a new and fun way! The slides are colorful, yet easy to maneuver for those little hands. This bundle has over 30 topics covering both math and reading!
Have your students use Google Classroom independently with this activity on Google Slides! Each slide is "anchored" into place with only possible answers being able to be moved on the slide. You don't have to worry about your students messing up any part of the slide or clicking and changing anything that is part of the question.
Every Google Slides presentation comes with a direction video on the first slide for your students. They can watch the video, see what to do, and then complete the Google Slides assignment independently. When they turn it in to their Google Classroom, you can then check it on your end and return it with comments for them to fix.
There are so many possibilities for this online resource! Independent practice, partner practice, small group practice, whole group practice, RTI practice...whatever you want to do! If you find that this assignment is too long, make it into a few assignments OR simply shorten it by deleting slides.
This product is great for distance/online learning and is compatible with Google Classroom. I've even had teachers tell me that they use it on their Zoom and Google Meets calls with their students!
✅Make sure you check out the quick preview video above! If you want to see the products a little closer, click on the linked topics below!
This bundle is for all of the second grade topics I have created. If I do create more Google Classroom for second grade, they will be added to this resource. As I stated earlier, these are the same products as in my other bundles. They are just bundled differently for those that want 2nd grade topics only.
✉ Please email me at craftyteacher246@gmail.com before purchasing if you have any questions!! ✉
This bundle includes over 30 topics with over 600 interactive slides for your students. In this bundle you will find these topics:
MATH:
Clocks 2 (hour/half hour/quarter hour)
Measuring 2 (to the Nearest Inch)
READING:
Fable 1: The Boy Who Cried Wolf
Fable 2: The Tortoise and the Hare
Shades of Meaning (by intensity)
Shades of Meaning 2 (synonyms)
Why teachers LOVE this resource:
✨ZERO prep for you! Pop this into Google Classroom as an assignment and you're good to go! (Need help with this? Email me and I'll be happy to walk you through it!)
✨Teachers can give feedback right to the student using comments on Google Classroom. You can "return" it to them and they can fix their mistakes!
✨Easy to use for students - yes, even 7 year olds!
✨Fun, bright, and colorful to keep kiddos engaged.
✨You can use this even after we go back to the regular classroom!
✨Create multiple assignments just from one presentation! (Need help with this? Email me and I'll be happy to walk you through it!)
✨Assign this as individual, partner, or group work. OR do it whole class!
✨Direction videos give the help students need. Students know what is expected and can see what they need to do right on the video!
What teachers are saying:
✅ "Great review. Children were able to practice independently after I taught the lesson. So many different resources - I have not been able to use them all yet."
✅ "Students enjoy doing these activities and they are very user friendly."
✅ "This was a valuable assignment during distance learning and plan to use again next spring in the classroom."
✅ "This is a fantastic resource for distance learning. I am also planning on using it upon returning to the classroom."
✅ "No prep resource, very helpful."
✅ "My kiddos are really engaged with these activities. They also make good small group activities as well. Just share the same documents with the students and they all work together to complete the slides!! Love them and will definitely use them in the future!"
✅ "This made distance learning less stressful."
------------------------------------------------------------------------------------------------------------------------------------------------------------------------------
Follow me here!
TPT * Pinterest * Instagram * Facebook * YouTube
Check out my website: www.purplepapercuts.com
Follow my blog: www.purplepapercuts.com/blog
Report this resource to TPT