Second Grade Math Games - Squares Your Brain™ Math Review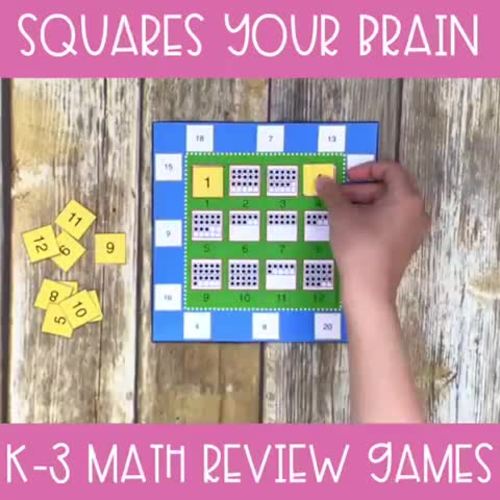 ;
Also included in
Math games are a great way to motivate scholars to review math skills. Use these math games for your second and third graders to review math standards in a fun and engaging way!Squares Your Brain™ is a new and exciting game from Mrs. Shipley's Classroom that brings fun and engagement to review of M

Price $6.00

Original Price $10.00

Save $4.00
Description
Do your scholars need some extra practice with their math standards? Are you wanting a fun and engaging way for your scholars to practice those standards all year long?
Squares Your Brain?™️ is a fun and engaging gaming solution for your classroom. The game set up is easy and once scholars learn the basic rules of the game, they can play on their own and use the answer keys to self check their work. The best part is, your scholars won't even know they are learning!
"Squares Your Brain? is so much fun! I want it at home!" --Roth's Rockstars
"This game has totally changed my stations for the end of the year. The kids don't even realize they working hard on standards we have learned. They are just having fun!" --Mrs. Crowly 2nd Grade
"The game was easy to print and assemble! I like that I just needed to print, laminate, add some dice, and throw the games into my centers. I can't wait for the next pack!" --Ms. Darby 1st Grade

"I am so excited that I purchased this product. It is going to be a nice game changer for my centers because all the games are played with same rules which means that I do not have to explain them every time I change the game. I also love how they can check it but not until they have removed the tiles. So those students who have a tendency to take the easy way out and look at the answer first, are not able to do so. Thank you!!!" --Amy B.
I specifically created this product as a way to engage my scholars who love to play games. I needed a game that could be played by one or a group of scholars and had easy to learn rules. Squares Your Brain?™️ did just that!
•Identify Missing Numbers to 100
•Ordinal Position to 12th
•Time to the Hour
•Time to the Quarter Hour
•Time to 5 Minutes
•Fact Families
•Counting Dimes and Pennies
•Counting Dimes, Nickels, and Pennies
•Tally Marks
•Counting by 5's
•Place Value (tens and Ones)
•Adding 10 to a Number
•Subtracting 10 from a Number
•Comparing 2-Digit Numbers
•Comparing 3-digit Numbers
•Fractions
•Fractional Parts of a Set
•2 Digit Addition with and without regrouping
•2 Digit Subtraction with and without regrouping
•Expanded form (hundreds, tens, ones)
•Rounding to the nearest 10
•Repeated Addition
•Arrays
--26 Game Boards
--Answer Keys
--Printing Instructions
--Terms of Use
*****************************************************************************
Related Products
• Second Grade Morning Work Spiral Review Year Long Bundle
• Second Grade Centers Math and ELA -- 2nd Grade Year Long BUNDLE
• Second Grade Color By Code Math - Math Mystery Year Long Bundle
• 300 Differentiated Close Reading Passages and Questions YEAR LONG BUNDLE
*****************************************************************************
Customer Tips:
How to get TPT credit to use on future purchases:
• Please go to your My Purchases page (you may need to login). Beside each purchase you'll see a Provide Feedback button. Simply click it and you will be taken to a page where you can give a quick rating and leave a short comment for the product. Each time you give feedback, TPT gives you feedback credits that you use to lower the cost of your future purchases. I value your feedback greatly as it helps me determine which products are most valuable for your classroom so I can create more for you. ☺
Be the first to know about my new discounts, freebies and product launches:
• Look for the green star next to my store logo and click it to become a follower. Voila! You will now receive email updates about this store. ☺
*****************************************************************************
Terms of Use
Copyright © Farrah Henley (Mrs. Shipley's Classroom). All rights reserved by author. This product is to be used by the original downloader only. Copying for more than one teacher, classroom, department, school, or school system is prohibited. This product may not be distributed or displayed digitally for public view. Failure to comply is a copyright infringement and a violation of the Digital Millennium Copyright Act (DMCA). Clipart and elements found in this PDF are copyrighted and cannot be extracted and used outside of this file without permission or license. Intended for classroom and personal use ONLY.
Report this resource to TPT