Seesaw Preschool and Kindergarten MEGA ELA , Math and Science Growing Bundle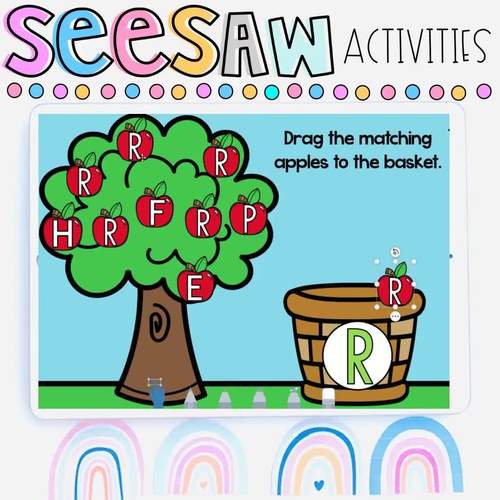 ;
What educators are saying
I use this resource when I tutor virtually. My students are engaged, they enjoy the activities and the students are able to complete them independently.
I was on the fence about buying these but I am so glad I did! This resource has so much to chose from and makes it easy to differentiate also. Thank you!
Description
Are you looking for endless Seesaw math, literacy and science activities for your preschool and kindergarten children? Then you will LOVE our Seesaw Preschool and Kindergarten MEGA ELA , Math and Science Growing Bundle. Each set will have a 6-10 cards and will work on a variety of skills. Any future seesaw products will be placed into this unit, so buy it now while the price is SUPER low! Products have already been added and will continue to be added. Redownload for updates.
When you open this document it will download as a PDF. You will click on each activity picture where the arrow points and says "click here." It will take you to seesaw (make sure you are logged into your teacher account) and prompt you to save the activity. You will assign the activity like normal. Each set comes with simple directions, feel free to edit the directions, add voice directions and cut the activity down to what suits your needs.
* This unit has already been discounted to take into account what you will use in preschool and what you can use in kindergarten. We understand that a preschool teacher will not be able to use all of these and a kindergarten teacher will not be able to use all of these. Remember students are not all at the same levels so you may want to use the extra activities for differentiation.
Already Included:
Math:
Addition 1-10
Color Identification Set 1
Color Identification Set 2
Color Identification Set 3
Color Identification Set 4
2D Shapes Set 1
2D Shapes Set 2
Number Building 1-10 (Blocks)
Number Building 1-10 (Painting)
Counting Objects to 10
Patterns Sets 1-2
3D Environmental Shapes
3D Shape Matching
3D Shape Identification
Ten Frames Set #1
Ten Frames Set #2
Twenty Frames
Addition to 10
Farm Animal Addition
Subtraction with Objects
Missing Numbers to 100
Base Ten Teens
Base Ten Activity 2
Bar Graph Set #1
Bar Graph Set #2
BTS Number Order
BTS Numbers to Sets
Shapes
Shapes Wheels on the Bus
Apples Counting to 10
Apples Counting to 20 Ten Frames
Apples Counting 20 Objects
Counting 1-20 Feed the Monsters
Fall Comparing More or Less
Fall Number Order

ELA
Letter Match-Up Apples A-I, J-Q, R-Z
Uppercase Letter Match Sets 1-3
Uppercase and Lowercase Letters Sets 1-3
Rhyming Sort
Beginning Sounds Sets 1-4
Sight Word Identification
CVC Short a
CVC Short e
CVC Short i
CVC Short o
CVC Short u
Digraph Set #1
Digraph Set #2
BTS Uppercase Letters Seek-N-Find
Colors
Apples Uppercase/Lowercase Match
Apples Rhyming
Apples Beginning Sounds
Fall Syllable Count
Fall Sight Word Match
Fall CVC Word Build
Seasonal
Units Included:
December
Holiday Count and Compare
Gingerbread Addition and Subtraction
Sentence Read and Match
CVC Candy
Gingerbread Vowel Sort
Comparing Candies
CVC Hot Cocoa
Snowman Syllable Sort
Snowball Sight Word Listen and Find
Snowflake Number Order
Snowflake Graph
Hot Cocoa Addition
Matching Numbers to Set to 20
Addition with Objects to 10
Reading a Graph
CVC Word Build
L Blends
Sentence Read and Match
Digraphs
Word Family Sort
Sight Words Build
Comparing Sets
Before and After
Fact Families
CVC Word Build
Mystery Picture Sight Words
CVC Missing Letter
How Many Sets
Number Order
Measuring Earthworms
Picture Word Match
Sight Word Fill-in-the-Blank
Beginning Blends
Making 10
Comparing Ten Frames
Base Ten
June
CVCe Ocean
CVC Word Build Ocean
Sight Words Fill-in-the-Blank
Count and Type Numbers Zoo Animals 1-20
Adding Ten Frames
Subtracting Summer
July
Ending Sounds
CVC Match
Digraph Fireflies
Lemonade Stand Counting by 5's and 10's
Adding Popsicles
Summer Number Order
Science Included:
More Distance Learning Products
Homeschool Unit 1: Spring and Seasons Kindergarten
Homeschool Unit 2: Weather Kindergarten
Home Learning 4 Weeks Preschool
If you are looking for more ideas for preschool you may like:
Center Labels for Preschool (I am Statements and Rotation Labels)
Dinosaur Math and Literacy Centers Preschool
Penguin Activities, Centers and Crafts for Preschool
Copyright Kindergarten Rocks
Follow us on:
(C) kindergarten rocks
Report this resource to TPT
Standards
to see state-specific standards (only available in the US).
Count forward beginning from a given number within the known sequence (instead of having to begin at 1).
Write numbers from 0 to 20. Represent a number of objects with a written numeral 0-20 (with 0 representing a count of no objects).
Understand the relationship between numbers and quantities; connect counting to cardinality.
Describe measurable attributes of objects, such as length or weight. Describe several measurable attributes of a single object.
Directly compare two objects with a measurable attribute in common, to see which object has "more of"/"less of" the attribute, and describe the difference. For example, directly compare the heights of two children and describe one child as taller/shorter.