Segmenting Short Vowel Words | Boom Cards | Distance Learning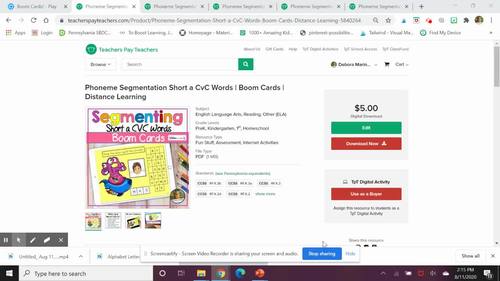 ;
Compatible with Digital Devices
The Teacher-Author has indicated that this resource can be used for device-based learning.
Products in this Bundle (5)
Bonus
Short Vowel Cut and Paste Worksheet
Description
You will find 5 different PDF's with a clickable link to Boom Cards. There is a deck for each of the short vowels (5 decks in all). I use these with students that are just starting to learn about the short vowels. Check out the previews in each deck.
Want to try one before you buy?Click here to try a free preview of one deck! If you don't already have an account with Boom! Learning, a FREE account will be opened once you redeem your purchase.
When you download this product, you will receive 5 PDF files with a links to the BOOM cards. Boom cards are free always!
Other things you might like:
Alphabet Poems with Sight Words
Boom cards are:
✔Self Correcting
✔No Prep
✔Engaging
✔Paperless
✔Fun and Interactive
✔Used on Devices
✔Free Access by Website or Free App
What are Boom Cards?
To use Boom Cards, you must be connected to the Internet. Boom Cards play on modern browsers (Chrome, Safari, Firefox, and Edge). Apps are available for Android, iPads, iPhones, and Kindle Fires. For security and privacy, adults must have a Boom Learning account to use and assign Boom Cards. You will be able to assign the Boom Cards you are buying with "Fast Pins," (play provides instant feedback for self-grading Boom Cards). Fast Play is always a free way for students to engage with Boom Cards decks. For additional assignment options you'll need a premium account. If you are new to Boom Learning, you will be offered a free trial of our premium account. Read here for details: http://bit.ly/BoomTrial.
Boom Cards have many awesome features built into each deck!
Decks are randomized automatically, and will only show 20 cards at a time This means each time your students play, they will see a different set! When the student picks an answer, they will know if the answer is correct or incorrect. They can not move to the next card until the correct answer is chosen. You set up an account and track your students learning progress.
With your Teachers Pay Teachers purchase, users new to Boom Learning get a three-month free trial of student progress reporting for up to 150 students. Your trial includes the ability to make up to 5 free decks. You may upgrade or cancel at any time.
Not sure if your browser is modern enough? Try sample of Boom Cards deck first.
When you redeem your purchase, Boom Learning opens an account for you if you do not already have one. If you do not subscribe at the end of your trial, you will be able to continue using Boom Cards with the Fast Play feature. Fast Play does not track individual progress. If you do not subscribe your student records will be deleted 3 months after the expiration of the trial to protect student privacy.
Boom Cards live in the cloud. They can't be printed. They play on most modern browsers (released in the last three years), Android, iPads, iPhones, and Kindle Fires. Boom Cards play on modern browsers on interactive whiteboards, computers and tablets. Free Boom Cards apps are also available.
You open a Boom Learning account to play them (to protect the children). Create Fast Play pins to assign your Boom Cards to students.
Boom Learning also has premium accounts. Premium accounts offer advanced assignment tools, individual and whole class performance tracking, and more. If you are a new Boom Learning customer, when you redeem your Boom Cards purchase you get 90-day free trial of a premium account. When your trial ends, you can renew or move to a free account. You may upgrade, downgrade or cancel at any time. Free accounts use purchased Boom Cards with Fast Play pins.
I hope this brings your students excitement and makes your job a little easier! If you find anything in this packet that needs to be reworked or might work better for your students, please let me know and I will be happy to rework any activity/packet that you have purchased to fit your needs.
FEEDBACK
I truly appreciate feedback. It helps me decide which products are most helpful and valuable for your students. The feedback you provide helps me make my products better to suit your needs. If there is anything that you might need or want to make your job easier, just let me know!
Customer Tips:
1. How to get TPT credit to use on future purchases:
• Please go to your My Purchases page (you may need to login). Beside each purchase you'll see a Provide Feedback button. Simply click it and you will be taken to a page where you can give a quick rating and leave a short comment for the product. I value your feedback greatly.☺
2. Be the first to know about my new discounts, freebies and products:
• click here to become a follower. Magically! You will now receive customized email updates about this store.
Hugs,
Debora
©TeachMagically™ Permission is granted to original purchasers to reproduce material as designated only for their own classroom use. No other part of this work may be reproduced in any form or by any electronic or mechanical means including information storage and retrieval systems without permission, except by a reviewer, who may quote brief passages in a review.
Report this resource to TPT
Standards
to see state-specific standards (only available in the US).
Demonstrate understanding of spoken words, syllables, and sounds (phonemes).
Isolate and pronounce the initial, medial vowel, and final sounds (phonemes) in three-phoneme (consonant-vowel-consonant, or CVC) words. (This does not include CVCs ending with /l/, /r/, or /x/.)