Selena Movie Packet in Spanish (64 pages)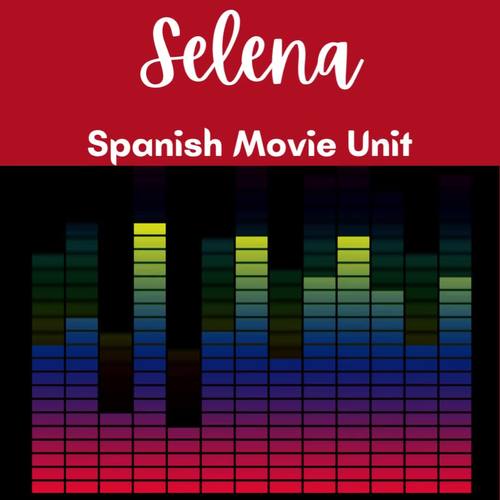 ;
What educators are saying
The students enjoyed the movie. This resource provided some great discussion questions and filler activities.
Description
This thorough 64 page movie packet is filled with vocabulary, cultural information, and fun speaking and listening activities that teach this movie well! This Selena movie unit is a sparkenthusiasm best seller and the movie is a favorite of our students! It is a perfect no-prep resource for Spanish 1, Spanish 2, Spanish 3, Spanish 4, AP Spanish and IB Spanish. Selena is a great resource to a music unit, to add to Hispanic Heritage Month studies or to learn more about Women's History.
You can also check out our digital Selena unit that is easily adaptable in an in-person, hybrid and/or remote classroom. Digital Selena Unit
This 64 page EDITABLE packet contains tons of activities and worksheets for the movie, Selena:
Background Information for the movie:
~ Selena Biography in English
~ Where are they now? Quintanilla Family and Yolanda Saldivar updates
~ Tejano and Cumbia Music Information
~ Hispanic Crossover Artists Information in English
~ Hispanic Crossover Artists Information in Spanish
~ Comprehension Questions from Crossover Artists Information in Spanish
~ Benefits of Being Bilingual Information in English
VOCABULARY:
~ Movie vocabulary in Spanish and English with five Crossword Puzzles with answer key! Movies for Spanish Class. Películas para la clase de español
COMPREHENSION ACTIVITIES:
~ Comprehension Questions in the Present Tense, Past Tense, and English with Answer Key
~ True/False Quiz with Answer Key
~ Put Movie Events in Order Activity with Answer Key
WRITTEN ACTIVITIES:
~ Summary of the movie
~ New Ending Writing Activity
~ Blank Fill-In Movie Information Sheet
~ Journals in Spanish (6 different prompts)
LISTENING ACTIVITIES:
~ Which Movie Character Is Being Described?
~ Three Selena songs with lyrics, activities, and links for where to view the music videos
EXTENSION ACTIVITIES
~ Song Title Translation Activity/Game
~ Selena Quintanilla-Perez and Selena Gomez Compare/Contrast Activity
~ Fun Music Judging Writing/Speaking Activity
Click here to check out our new Selena Digital Unit!
What Teachers Like You Are Saying:
⭐⭐⭐⭐⭐ Fabulous resource! As always, Spark Enthusiasm really delivers a comprehensive packet for using a movie in Spanish class. You won't regret this purchase!
⭐⭐⭐⭐⭐ Amazing activities here and tons for my students to do! Bravo!!
⭐⭐⭐⭐⭐ I love this movie and so do the students. This resource is excellent, very comprehensive with lots of activities!
Click here for ALL MOVIE SCENES GAMES AND BUNDLES!
ALL of our movie packets with tons of resources are here!
ALL sparkenthusiasm movie guides
Let's connect! We would love to hear from you!
Have a great school year!
Report this resource to TPT