Self Control BOOM CARDS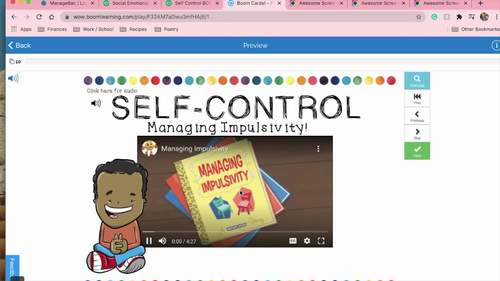 ;
Description
With this fun BOOM CARDS deck, students can both learn about self-control and identify it in various situations. First, there is audio on self-control/managing impulsivity and questions about the "stop, think, act" method. Following this, there are 5 different stories where the students determine whether the person in the story showed self-control or not. It's a great way for them to apply what they are learning.
Each slide includes audio and colorful pictures!

You might also like these other resources:
Name that Emotion Game show: Boom Cards
Learning Emotions Bundle: Boom Cards
Life Skills Bundle: Boom Cards
You do not need a Boom Cards membership!! Just create a free account with the link provided and this resource is yours. To use Boom Cards, you must be connected to the Internet. Boom Cards play on modern browsers (Chrome, Safari, Firefox, and Edge). Apps are available for modern Android, iPads, iPhones, and Kindle Fires. For security and privacy, adults must have a Boom Learning account to use and assign Boom Cards. You will be able to assign the Boom Cards you are buying with "Fast Pins," (a form of play that gives instant feedback to students for self-grading Boom Cards). For assignment options that report student progress back to you, you will need to purchase a premium account. If you are new to Boom Learning, you will be offered a free trial of our premium account. Readhere for details: http://bit.ly/BoomTrial.
_________________________________________________________________
Connect with me!
Contact me
peacefulplayteacher@gmail.com
Report this resource to TPT