Self-Directed Service-Learning Project Tool Kit for High School Students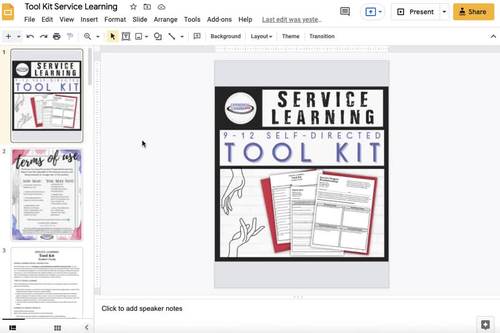 ;
Easel Activity Included
This resource includes a ready-to-use interactive activity students can complete on any device. 
Easel by TPT is free to use!
Learn more
.
Also included in
Self-directed learning in the classroom or homeschool is a great way to gain content knowledge and build 21st-century skills simultaneously. This bundle includes five student-directed learning tool kits: Scientific open inquiryProject-based learningProblem-based learningMaker projectsService-learnin

Price $30.15

Original Price $33.50

Save $3.35

Teaching 21st-century skills doesn't have to be an extra task. What if your students could learn content and develop 21st century skills at the same time without you having to overthink it or over plan? This resource is a bundle of 21st century skills learning activity tool kits that organically inc

Price $43.65

Original Price $48.50

Save $4.85

Are you looking for open-ended homeschool or classroom experiential learning activity resources for any and all subjects or targets? Or maybe you're interested in adding experiential learning activity experiences to your classroom or homeschool curriculum but aren't sure how to facilitate it, don't

Price $49.05

Original Price $54.50

Save $5.45

Are you looking for real-world, authentic service-learning projects for your high school students without sacrificing more of your time directing the experience or pulling materials together? This mini-bundle offers ready-made materials for student-led service-learning projects that revolve around l

Price $10.80

Original Price $12.00

Save $1.20
Description
Service-learning projects for self-directed learners offer a great opportunity for high school students to give back to their communities, develop 21st-century skills, and build their resumes through community involvement.
Individuals or small groups design and lead their own service-learning projects while you facilitate. This tool kit provides guiding templates to scaffold students seamlessly and independently through the experience from start to finish.
"I used it to lay the groundwork for service-learning projects. Gave me a great place to start." - Heather

Using the tool kit, individuals or small groups will:
Choose a community topic
Research that topic in-depth
Interview community members to identify specific needs related to the subtopic
Brainstorm service-learning projects with the intention of filling the defined need
Complete service-learning projects.
There is very little prep on your part. Simply introduce the experience, print the guiding templates, and facilitate and manage experiences.
Check out the free service-learning implementation spreadsheet included with my free experiential learning tools mini-bundle by clicking here.
***This resource includes a printable PDF, a digital Google Slides, and a digital TPT Easel option. This resource is not editable at this time.
Timeframe: I did not add a specific time duration for this project because it will vary widely based on learning structure and project details. A service-learning project could take anywhere from 2 weeks to 9 months. If you tell students that they have 2 weeks to complete these projects, they will plan their experiences around that timeline.

Service-Learning Project Tool Kit Includes:
A teacher guide with service-learning project facilitation steps
Student service-learning project description, overall project instructions, and service-learning examples to help guide and inspire
Service-learning project checklist
Interest survey to identify a community topic of interest and a perceived community interest
Research guide with guiding questions and room to add student research questions
Interview template with some guiding questions to get students started and room for notes
Service-learning project brainstorming mind map
Service-learning project planning templates
Project-specific service-learning experience task list
Presentation planner
Service-learning project plan summary
Service-learning project reflection
Service-learning rubric
If you liked this resource, check out these products as well!
Helpful and Relevant Blog Post from ELD
Interested in new resource alerts, freebies, tips, tricks, and more?
Earn TPT Credits:
Follow Experiential Learning Depot and earn TpT credits by giving feedback on this product. A sincere thank you for your business. Feel free to contact me through email at any time with questions on this product - experientiallearningdepot@gmail.com
Cover Font Credit: MR. FISK Fonts
Report this resource to TPT
Standards
to see state-specific standards (only available in the US).
Initiate and participate effectively in a range of collaborative discussions (one-on-one, in groups, and teacher-led) with diverse partners on grades 9–10 topics, texts, and issues, building on others' ideas and expressing their own clearly and persuasively.
Come to discussions prepared, having read and researched material under study; explicitly draw on that preparation by referring to evidence from texts and other research on the topic or issue to stimulate a thoughtful, well-reasoned exchange of ideas.
Propel conversations by posing and responding to questions that relate the current discussion to broader themes or larger ideas; actively incorporate others into the discussion; and clarify, verify, or challenge ideas and conclusions.
Respond thoughtfully to diverse perspectives, summarize points of agreement and disagreement, and, when warranted, qualify or justify their own views and understanding and make new connections in light of the evidence and reasoning presented.
Present information, findings, and supporting evidence clearly, concisely, and logically such that listeners can follow the line of reasoning and the organization, development, substance, and style are appropriate to purpose, audience, and task.