Self Esteem Workbook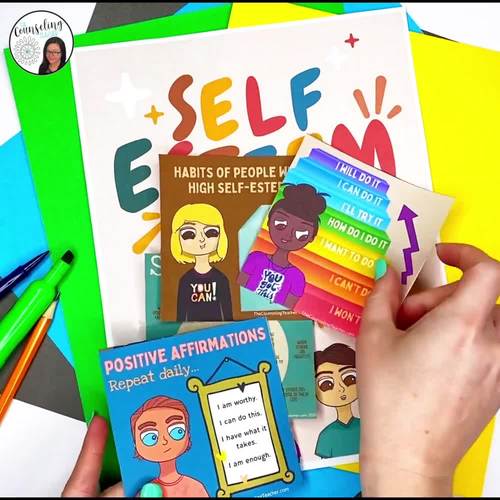 ;
What educators are saying
My students love having the positive quotes and posters so much that they have even taped them onto their desk and/or locker for that daily positivity and motivation.
My students took these home after a mini-unit on self-esteem. They were excited to get them and said they enjoyed using them. I also use them with students in individual counselling.
Also included in
This bundle includes two interactive workbooks focusing on building self esteem and self confidence. Your students will enjoy the mindful coloring and engaging activities. Improve peer relationships by working on individual needs first.Self Esteem Workbook:Higher self-esteem leads to higher grades a

Price $10.35

Original Price $11.50

Save $1.15

Grab four engaging workbooks for students to work on self-esteem, confidence, mindfulness, emotional regulation, healthy boundaries and more. This bundle includes two workbooks on Personal Boundaries and Mindful Emotional Regulation. 100 pages of coping skills are included to help students have bett

Price $21.20

Original Price $26.50

Save $5.30

Grab this bundle of six workbooks for your School Counseling office. Engaging activities to support students with self-esteem, confidence, emotional regulation, mindfulness, stress relief and personal boundaries.1. Setting Personal Boundaries WorkbookWant your students to have better relationships a

Price $30.00

Original Price $34.50

Save $4.50

30 Social Emotional Learning resources for 30% off. This bundle includes resources that address conversation skills, anxiety, growth mindset, friendships, drama, goal setting, gratitude, journaling, kindness, conflict resolution, mental health, mindfulness, hygiene, respect, self-confidence, self-es

Price $109.48

Original Price $156.40

Save $46.92

Great for new Upper Elementary School Counselors and Veteran Counselors looking for a program refresh. This bundle includes 57 of the best resources that will save you time and give your program a complete makeover. You will get an entire year full of engaging activities and lessons to help you serv

Price $143.85

Original Price $205.50

Save $61.65
Description
Higher self-esteem leads to higher grades and better peer relationships. These activities help students build self-confidence with engaging mindful coloring pages and activities. Your students will learn to love their unique qualities so they can appreciate each other and the diversity of their peers. Add this to your School Counseling Toolbox to use year after year. Teachers can also use these in the classroom and send pages home with parents for additional support.
This resource Includes 39 pages:
8 Full Color Pages
Cover Page
Poster
4 mini posters
Sign "Habits of People with High Self-Esteem"
Sign "Positive Affirmations"
Sign "Steps to do a new task"
Sign "Self Esteem Circles of Control" (layout 1)
Poster "Self Esteem Circles of Control" (layout 2)
31 Black & White Pages:
What is self esteem?
Control Quote Coloring Page
Self-Control Sort
Compliments Coloring Page
Positive Quotes
Create a Compliment Speech Bubbles
What others can't take away from me
Quote Coloring Page
Mandala positive attributes
Quote Coloring Page
Rise By Lifting Others Activity Page
What Makes Me Lovable
"I am" Mandala Coloring Page
Things I can do for me
Likable Quote Coloring Page
Forgiving Self and Others
Respect Uniqueness Coloring Page
Feeling Good About Ourselves
Kindness Challenge
Self-Worth Quote Page
Good Things Quote
Positive Change Quote Page
Mandala Quote Page
Honor Yourself Quote Page
Failures Quote Page
Excuses Quote Page
Hold Head High Page
Confidence Mirror Exercise
My Circle of Support Mandala
What's on the Inside Quote
Things I Want to Learn
Weekly Reflections (Can print duplicates to make a year long journal.)
Monthly Reflections
My Self Esteem Plan
Report this resource to TPT