Self-Paced Reading Lessons – 4th & 5th Grade Reading Review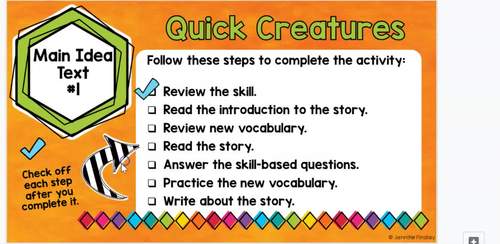 ;
Zip

Google Apps™
Includes Google Apps™
This bundle contains one or more resources with Google apps (e.g. docs, slides, etc.).
What educators are saying
These have been great for my fast finisher students. We make sure to go over them as a class whenever I assign them. It has helped many more students understand the concepts!
My students were very engaged with these lessons during summer school, I'm always looking for things they can do independently and at their own pace. Thank you for another great resource.
Products in this Bundle (8)
showing 1-5 of 8 products
Description
Do you ever wish you could duplicate yourself so you could provide additional small-group reading instruction? Or have you ever wished that small-group reading lessons could be self-paced with all the parts of strong reading instruction?
These self-paced reading lessons provide additional review and instruction for your students, mimicking what they would get from small-group reading instruction.
These are the skills included in this bundle:
Each self-paced reading lesson includes:
Skill Review – Review of the skill focus (each lesson has one specific skill focus) with questions to guide students as they read the story (the questions are focused on the skill)
Introduction to the Story – Introduction to the story with a specific reading focus tied into the skill
Vocabulary – Vocabulary words with kid-friendly definitions and connections to the story and optional extension activities
Engaging Text – A one-page length passage written at a 4th/5th grade reading level
After-Reading Questions – Skill-focused questions to be answered after reading the text
Extension - Optional discussion or writing prompts
Answer Keys (optional discussion/writing prompts do not include answer keys as many are subjective)
Here are some ways to use the self-paced reading lessons:
Skill practice after initial instruction
Reading centers or stations
Re-teaching
Test prep
Assessments
Whole class/whole group reading lessons
Virtual reading lessons
About the Digital Versions
The digital version is ideal for an engaging self-paced reading center or station. It has been redesigned for optimal student use in Google Slides and contains the same content as the printable version.

There are two digital options: independent or whole class. The activities are altered, depending on your preference of use. Digital access can be found on pages 4-6 of each PDF.
Report this resource to TPT