Self-Regulation Coping Strategies for Classroom Management Calm Corner Tool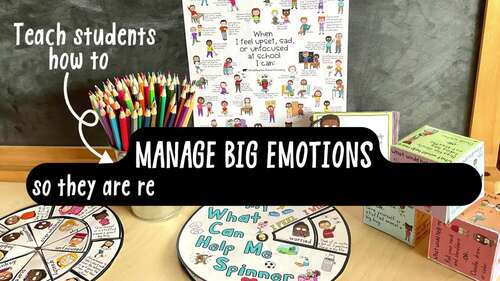 ;
Zip

Google Apps™

Internet Activities
Includes Google Apps™
The Teacher-Author indicated this resource includes assets from Google Workspace (e.g. docs, slides, etc.).
What educators are saying
My students struggled with self-monitoring their behaviors and explaining what was wrong and how to fix their mindset. We created the spinner and they loved them!
As I work with students who have behavioral issues and struggle with their emotions this resource allowed me to support my students in learning to self regulate.
Also included in
This Self-Regulation Coping Skills Bundle will help to teach young people coping skills and self-regulation strategies. This coping skills toolkit is perfect for your SEL (Social Emotional Learning) Curriculum, Trauma Sensitive Classrooms, Calm Corner, individual and group counseling sessions, and

Price $28.00

Original Price $50.25

Save $22.25

Save tons of planning time and get your students excited about social emotional learning with WholeHearted's Storewide Growing Bundle! Grab over 140 effective and fun counseling and SEL activities and lessons at 50% off. And help your students to build healthy social emotional skills, such as self

Price $279.00

Original Price $548.00

Save $269.00

This social emotional learning mega bundle contains many of WholeHearted School Counseling's SEL games and activities to help children learn, practice, and develop coping skills, self-regulation, social skills, and self-esteem. This SEL Bundle contains some of WholeHearted's top selling resources.

Price $185.00

Original Price $301.25

Save $116.25
Description
Our 50 Self-Regulation Coping Tools Activity Kit teaches students classroom appropriate strategies to self-regulate, focus and get ready to learn & get along with others. With 50 suggestions to choose from, your students will for sure be able to find and use coping strategies that meet their individual needs. Classroom disruptions will also be reduced when students practice self-regulation skills independently. Detailed visual supports also help students to better communicate. Effective trauma-informed classroom management intervention, too!
Used in over 14,000 classrooms, counseling offices & homes.
⭐️ ⭐️ Check out the PREVIEW and video to see more! ⭐️ ⭐️
WHAT YOU'LL GET
50 Self-Regulation Coping Skills for School poster, checklist, and interactive digital task cards on Google Slides™
-Just print, cut out, and attach with a fastener
-8 different feeling wheels and 4 different Coping Strategies Wheels,
including General Coping Skills, Strategies for Children Easily Frustrated
with School Work, Mindfulness Strategies, and Physical Tension Release
Strategies
DIY Customizable Spinner Templates
-Make your own spinners! Choose from 48 feeling faces and 50 coping tools
Poster (color & black/white both formatted for 8.5" X 11" and 18" X 24" printing)
Checklist of 50 Self-Regulation Tools for the Classroom
50 Task Cards
BONUS: Self-Regulation Coping Skills Dice
All files come in color and black/white printing (perfect for coloring)
**** Includes two different illustration styles, too! ****
Why Teach Self-Regulation Skills
Teaching children self-regulation tools helps the thinking part of their brain, the pre-fontal cortex, to remain engaged and in charge. Many of our students need extra support in this area, often coming to school already in a state of fear, worry & chronic stress. Until we help students manage and relate -with kindness & compassion-to these challenging emotional experiences, they will have a hard time learning the academic tools that students need to be successful in and out of school.
Ways to Use
Tools for your classroom management
SEL activity for your whole class
Small group activity
Individual intervention for students who need additional support with self-regulation
Use checklist to inform Behavioral Intervention Plans
Providing solution-focused, pro-active tools to replace negative behaviors with positive ones
Use checklist, poster, dice task cards and/or spinner in your Classroom Calm Corner


COMMON QUESTIONS and ANSWERS
What Other Counseling, Wellness, or Social Emotional Learning Resources Do You Recommend to Help My Students or Children Regulate Their Emotions?
___________________________________
Learn about sales, freebies & new resources (that are always 50% off the first 48 hours!):
___________________________________
Earn TPT credit to Use on Future Purchases:
Visit your My Purchases page.
Click on the Provide Feedback button for any Paid Resources.
Leave a short comment and rating.
___________________________________
Need Help With Your Files?
Visit the FAQs section
Contact TpT Tech Support and submit a help ticket
Ask WholeHearted School Counseling™ a question via the Q& A tab
___________________________________
Terms of Use
This resource was created by WholeHearted School Counseling™, all rights reserved. When you purchase a license, it may be used for your personal single classroom, counseling office, or home use only. If you would like to share this product with other teachers, counselors, staff, or administration, please either refer them to WholeHearted School Counseling's™ store or purchase an additional license for each adult use. You can read more details about copyright and terms of use here.
Thank you for respecting the Copyright and Terms of Use boundaries. Take good, kind care of yourself. ❤️
Report this resource to TPT