Sell this Haunted House- Middle School Halloween Writing Activity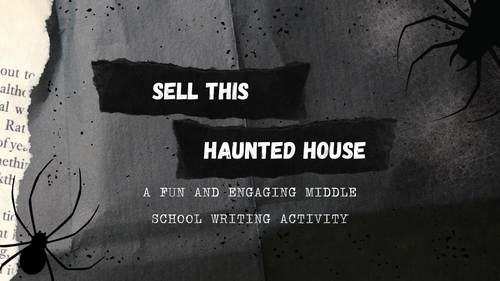 ;
What educators are saying
My 7th grade students LOVED this writing assignment! I plan to allow more time when I use it again because they put forth so much effort!
My students responded very well to this product. Well made and easy to implement into my instruction/planning!
Also included in
Five Halloween products are included in this resource! These products include writing activities, research, and grammar for the middle school language arts classroom. What's included:Product 1: Halloween Around the World DocdecahedronThis is resource is a fun, hands-on Halloween research activity!

Price $5.50

Original Price $11.00

Save $5.50

Creative writing is by far my students' favorite mode of writing and how I keep them engaged with writing. All of the resources included are both creative writing and some other type of writing as well (descriptive, persuasive, poetry, etc.). Ten resources are currently included but I will add any

Price $18.55

Original Price $26.50

Save $7.95

Digital Version:This resource is a FUN and ENGAGING Halloween writing activity for your students! Upon downloading, you will be given access to three Google Slide resources including teacher instructions, student example, and student template. In this activity, students assume the role of a real est

Price $4.50

Original Price $6.50

Save $2.00

This bundle includes FIVE writing activities to keep your students busy and engaged during the month of October! Resource 1: October Writing ChallengesThis resource consists of four short writing activities to get students' creative juices flowing while also working on writing skills. Each activity

Price $6.65

Original Price $9.50

Save $2.85
Description
This resource is a fun and engaging Halloween writing activity for your students!
In this activity, students assume the role of a real estate agent, and they have just acquired their first house! Students draw and create an online listing for a haunted house that they have designed. They draw the house and other rooms, write a detailed description that includes a list of Halloween words, point out the features of the house, and list the real estate agent's contact information.
In the next part of the activity, students create a newspaper advertisement persuading potential buyers to visit their open house. Finally, they will answer questions from potential buyers all while putting a positive spin on this haunted house!
:
Teacher's Notes- Including Extension Ideas
Student Assignment Sheet with detailed instructions
Online Listing Template (2 pages)
Newspaper Advertisement
Potential Buyer Questions Sheet
Teacher Grading Rubric
A file is included containing many student examples and a file that explains a 5 day suggested lesson plan! This project can last two to five days depending on how many of the activities that you use and how much time you give your students to illustrate (my students always beg for more time).
Once students finish their haunted house, you can host an auction where students bid on each other's houses to determine a winner! Bid cards are included! Want to include speaking and listening standards? Have students present their persuasive open house articles to the class to see who can be the most persuasive!
This resource is now offered in a digital format as well. You can find it by clicking the link below:
Sell This Haunted House- A Digital Writing Activity
This product is included in my Creative Writing Bundle! Check it out here: Middle School Creative Writing Bundle
Check out these other fun creative writing activities:
Design Your Own Restaurant Creative Writing Activity
Design Your Own Cellphone App Creative Writing Activity
Design Your Own Clothing Line Creative Writing Activity
Design Your Own Video Game Creative Writing Activity
North Pole for Sale Writing Activity
An Ode to... Valentine's Day Writing
What buyers are saying about this product:
"My 6th grade students loved this project! They really enjoyed the creative ability they could have with making the house look like a haunted house or it looking normal on the outside, but definitely unique on the inside! :) I had my students present their ads as if it were a T.V. commercial to get some presentation standards in. The students loved being able to present their, obviously, creepy home in a positive way! They all ranked it with a big thumbs up! Teachers: this is a great way to incorporate persuasive writing in unique way! You can do it at any point of the year; it is not just for October! :) I had my kiddos look at houses online (Zillow) to give them an idea of what real estate ads are like and the way they show off a house/pictures featured. This really helped build up schema for them!"
"A great creative way for students to use their imaginations to sell their haunted house. They learned lots of new vocabulary as well."
"Love this idea. Allows kids to really use their imagination in so many ways!"
"Me and my class loved working on this set of activities. They produced some excellent persuasive writing. Thank you."
"Absolutely Awesome!! The students were so engaged!"
"My students LOVED this activity. I had our administrators come to our "open house" and my ESOL students practiced their speaking skills by answering questions about their houses. It was great!"
"I easily adapted your template to use with middle schoolers - we just read a whole Poe unit and they had to incorporate details from one of his stories into this house. It was great! Also great without our Poe angle - very thorough. "
"My kids absolutely LOVED this!! One of my favorite writing assignments!! They got really creative with these!"
Let's be Friends!
Join the Oh So Simple ELA Monthly Newsletter!
Follow me on Teachers Pay Teachers- You will receive notifications about new resources, sales, and freebies!
Teaching Duration
90 minutes
Report this resource to TPT
Standards
to see state-specific standards (only available in the US).
Write informative/explanatory texts to examine and convey complex ideas and information clearly and accurately through the effective selection, organization, and analysis of content.
Produce clear and coherent writing in which the development, organization, and style are appropriate to task, purpose, and audience.
Write routinely over extended time frames (time for research, reflection, and revision) and shorter time frames (a single sitting or a day or two) for a range of tasks, purposes, and audiences.
Demonstrate command of the conventions of standard English grammar and usage when writing or speaking.
Demonstrate command of the conventions of standard English capitalization, punctuation, and spelling when writing.