Semana Santa Readings + Activities Holy Week in Spanish Gallery Walk | Sub Plans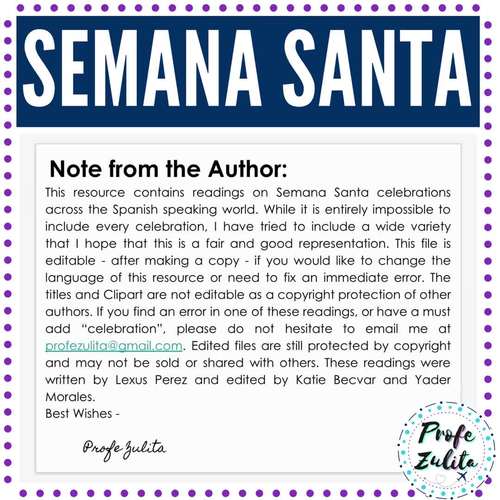 ;
7

th

- 12

th
,
Higher Education
,
Adult Education
,
Homeschool
PDF

Google Apps™
10 readings & 2 activities
Includes Google Apps™
The Teacher-Author indicated this resource includes assets from Google Workspace (e.g. docs, slides, etc.).
What educators are saying
This was a great resource for my students to learn about Semana Santa in many places, and I'm grateful I was able to use this print and digital.
Added to lesson plans for Semana Santa cultural week; fun activities that I'm sure my students will enjoy; like having an easily manageable way to allow students to move around the room
Also included in
Are you looking for a low-prep way to incorporate culture & celebrations of the Spanish Speaking World into to your Spanish Class? These gallery walk readings with comprehension checks are an easy and low prep way to include holidays, celebrations, and culture into your comprehension based class

Price $45.00

Original Price $65.00

Save $20.00

This growing Spring Activity bundle for Spanish class will give you all the resources you need to cover March and April holidays and celebrations and more! This bundle contains readings, activities, games, Boom Card decks, and more! Reading materials appropriate for Novice Mid - Novice High level st

Price $49.00

Original Price $61.50

Save $12.50
Description
Engage your students in Semana Santa with this low-prep reading sets to incorporate Semana Santa into to your Spanish Class! This set of 10 readings with activities is a great way to celebrate Holy Week in Spanish class with traditions and celebrations from across the world!
These readings are designed to introduce the traditions of Semana Santa not to teach religion. However; Semana Santa is a religious celebration and those aspects are part of this resource. Check out the preview to learn more!
The text of this set is editable if you would like to change the wording; however, if you find an error please email me at profezulita@gmail.com so I can update the resource! I use this resource over two days for Novice High / Intermediate Low for Spanish 2 / Spanish 3 students in my classroom.
Here's what you get:
- 10 Readings digital and printable format
- Editable text to change language or gloss new words
- Glossed "new" words for each reading
- Gallery Walk notes catcher sheet
- Matamoscas Call Card / Slide for whole class play, with questions in English, printable sheet for individual work, and Blooket link for digital play for both sets of readings.
- 3 unique Color By Answer sheets for comprehension checks
- Traditions / Celebrations for Semana Santa from: Mexico, Spain, US, Nicaragua, Israel, Italy, Peru, Colombia, Venezuela, & a general Semana Santa reading.
How to use in your classroom:
I use these reading as a gallery walk over two days. Other teachers have used one reading each day as a warm up activity to include culture in their lessons. Other teachers have created bulletin board displays with the readings on Semana Santa. These reading can also be used as sub plans! Leave the readings and follow up activity with your sub and your students will be learning culture all day!
Teachers like you said:
⭐️ ⭐️ ⭐️ ⭐️ ⭐️ : "These resources are very engaging and productive ! They promote retention of the material as well as motivation for the students." - 9th, 10th, 11th, 12th grade Teacher
⭐️ ⭐️ ⭐️ ⭐️ ⭐️ : "Great resource! The readings are the right level for my middle school Spanish 1 students. The activities are fun and engaging." - 6th, 7th, 8th grade teacher
⭐️ ⭐️ ⭐️ ⭐️ ⭐️ : "This was a great resource for my students to learn about Semana Santa in many places, and I'm grateful I was able to use this print and digital."
This product contains a PDF download with a link to a Google Drive folder. You will need to make a copy of the files in the folder to access them.
Thank you for choosing Profe 'Zulita for your classroom needs- and I hope to see you in the future! Remember, we love to see and read your 5* reviews! And if you leave a review after using this product with your students you will earn free TPT credits that can be used for free resources.
To keep in touch with product updates, new products, product tester needs, and sales- give me a follow on Instagram (where you can show me how much your students are enjoying!) join my email list (where I love to email out freebies!) and follow my TPT Store! To follow along on my Spanish teaching adventure, read follow my blog!
If you have other product suggestions or things you need solutions for in your classroom, or find an error in this product please send them to profezulita@gmail.com and how you envision this product (PDF, interactive Google Slides, Boom cards, etc.). If your product is chosen for production, you may receive your product for free! For more information, send an email!
Total Pages
10 readings & 2 activities
Report this resource to TPT