Sentence Building Bundle - Writing Sentences Practice Worksheets for 1st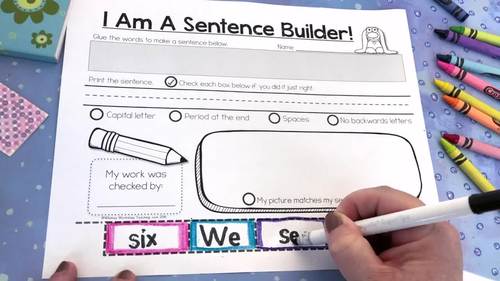 ;
What educators are saying
This is very good, so many options to choose from and covers many different topics. It's a good balance of creativity and structure. Thank you for making these available!
I liked the different types of sentences to choose from. I also like the writing checklist that the students do.
Products in this Bundle (6)
showing 1-5 of 6 products
Description
This comprehensive Sentence Writing Bundle includes 6 sets of no prep worksheets for daily practice of writing proper sentences! Each set has 80+ worksheets with hands-on activities focusing on complete simple sentences with sight words, number words, digraphs, blends, contractions, quotation marks, and more! Students cut and arrange words to build each simple sentence, then write, illustrate, self-edit and peer-edit the sentence. There are a lot of skills packed into one page!
This resource is a TPT top seller!
Please take a look at thousands of positive reviews of this resource to see how other teachers are using it!
"I wanted to share with you that my administrator was in my room yesterday and saw one of my little ones working with this product, and she actually stopped me in the hall today to tell me how great she thought it was! I completely agree with her! :)"
Use these sentence building kits in to increase difficulty through the year, or use to simultaneously to differentiate in classrooms with multiple needs and levels. Perfect for morning work, literacy centers, small group sentence work and whole group writing practice.
What Does This Bundle Include?
This bundle contains Sets 1-6 of the Sentence Building Kits series. Over 375 pages in 6 different formats will help guide you through the entire year of independent practice.
You can use these as morning work, literacy centers, small group intervention or even home practice.
Students will gain proficiency in:
Capitalization (set 1, 2 and 3)
Ending punctuation (set 1, 2 and 3)
50 Sight words (set 1)
Color words (set 1)
Number words (set 1)
Nouns (set 3)
Adjectives (set 3)
Verbs (set 3)
Contractions (set 2)
Quotations marks (set 2)
Students use the embedded checklist to edit their own:
punctuation (periods)
capitalization
random capitals
letter formation
space between words
backwards letters
adding their name to work
EDITABLE VERSIONS:
Editable templates for set 1 and set 3 are included in the bonus section of your download. The bottom sentence area (where students cut out the words) can be customized to include sentences with students names or other personalized topics.
TIP: Create sentences together with your students using their names and sentences specific to your classroom!
SENTENCE BUILDING WORD CARDS:
Set 1 includes simple 4 and 5 word sentences that also practice 50 sight words, number words to ten, and color words. Also included are sentences that students can fill in the blanks.
SENTENCE BUILDING WORD CARDS:
Set 3 includes 90 full color word cards to Kit #3. Students mix and match color-coded word cards to build funny sentences. Perfect for an instant literacy center!
ORGANIZATION:
Kit 1: Short Sentences, Sight Words, Color Words, Number Words
Kit 2: Contractions, Quotation Marks and Longer Sentences
Kit 3: Parts of Speech - Nouns, Adjectives, Verbs
Kit 6 -Trigraphs and Compound Words
AUSTRALIAN VERSION using "full stop"
The original versions also include pages at the end with Canadian/UK/Austalian spelling, but if you need wording as "full stop" replacing "period", you will need the Australian version: Australian Sentence Kit 1
PREVIEW
You can see the preview by clicking the green button near the top of this page. Please look at the preview to see the details before purchasing to ensure these are right for your needs.
Click HERE to follow my store for early bird pricing on new resources!
*Commercial purposes such as Outschool are not permitted.
DOWNLOADING AND PRINTING
If you have any trouble with downloading or printing your documents with the clip art, please read the help on this page: https://www.teacherspayteachers.com/Help
If you still need troubleshooting, please email support@teacherspayteachers.com and the TPT tech team will be happy to help you.
Clip art bundles are collected in a compressed ZIP file and include all clip art on the cover, my logo, a preview image, and a link to my TOU. You can read more about zip files by clicking HERE.
SIMILAR RESOURCES
Would you like to see a huge list of similar resources all on one page?
Just click the category below that you'd like to browse:
⭐️  Click to see all SOCIAL SKILLS resources.
⭐️  Click to see all ART resources.
⭐️  Click to see all MATH resources.
⭐️  Click to see all FREE DIRECTED DRAWING VIDEOS resources.
⭐️  Click to see all SENTENCE BUILDING resources.
⭐️  Click to see all PHONICS AND READING resources.
CONTACT
If you have any questions or concerns, please email me directly at whimsyworkshopcreations@gmail.com
Please read my TOU first as many questions are answered there.
Whimsy Workshop Teaching Terms Of Use
OTHER RESOURCES
You can see ALL clip art and early literacy sets organized in one place by clicking Whimsy Workshop Teaching -- simply choose a tab at the top of the page to explore!
Don't miss out on free and discounted resources by keeping in touch!
Click HERE to follow my store for early bird pricing on new resources!
Teachers Pay Teachers Notifications
Access to:Newsletters and Free Resource Library
-Susanna
Whimsy Workshop Teaching
***************************************************************************************
TERMS OF USE
Please read my TOU first as many questions are answered there.
Whimsy Workshop Teaching Terms Of Use
Copyright ©Whimsy Workshop Teaching, Inc. All rights reserved by author. This product is to be used by the original downloader only. Copying for more than one teacher or classroom use is prohibited. If you know of other teachers who wish to have their own copy, you can click on extended licenses during the checkout process (at reduced prices), or email the product link to colleagues so they can purchase their own legal copy and receive any updates in the future.
This product may not be distributed or displayed digitally for public view. Failure to comply is a copyright infringement and a violation of the Digital Millennium Copyright Act (DMCA). Clipart and elements found in this PDF are copyrighted and cannot be extracted and used outside of this file without permission or license. Intended for classroom and personal use ONLY. *Not for commercial purposes such as Outschool.
************************************************************************************************
Report this resource to TPT
Standards
to see state-specific standards (only available in the US).
Develop and strengthen writing as needed by planning, revising, editing, rewriting, or trying a new approach.
Demonstrate command of the conventions of standard English capitalization, punctuation, and spelling when writing.
Determine or clarify the meaning of unknown and multiple-meaning words and phrases by using context clues, analyzing meaningful word parts, and consulting general and specialized reference materials, as appropriate.