September Geoboards | Fall Themed | Practice Geometry & Fine Motor Skills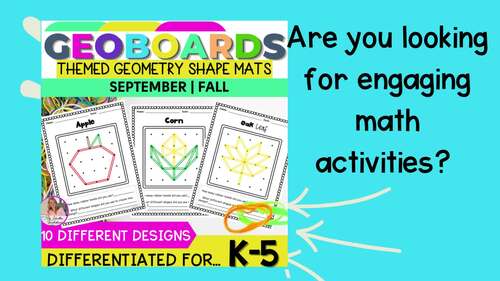 ;
Also included in
Keep your students engaged with some fun geometry activities. These Holiday Themed Geoboards are perfect for introducing basic shapes and developing fine motor skills. Not only will your students have a blast creating these festive structures, but they'll also be reinforcing their geometry skills in

Price $27.30

Original Price $39.00

Save $11.70

Help your students practice important 1st grade skills with this fun bundle! This bundle provides tons of hands-on and interactive learning for first grade. Your students will enjoy these FUN and engaging activities.September First Grade Math and Literacy BundleRelated Products☀️ Geometry With Geoboa

Price $14.35

Original Price $20.50

Save $6.15

Help your students practice important 1st grade skills with this fun bundle! This bundle provides tons of hands-on and interactive learning for first grade. Your students will enjoy these FUN and engaging activities.These resources are both print and Digital (Google Slides). ****THIS RESOURCE IS NOW

Price $170.28

Original Price $229.00

Save $58.72
Description
Keep your students engaged with some fun geometry activities. These Fall Themed Geoboards are perfect for introducing basic shapes and developing fine motor skills. Not only will your students have a blast creating these festive structures, but they'll also be reinforcing their geometry skills in the process!

Geoboards are a versatile and essential teaching tool for early childhood and elementary students. They can be used to teach a variety of math concepts, including geometry, counting, perimeter, angles, and scaling. This set of Fall themed geoboards is perfect for September, October and November lessons. The boards come in ten different designs, each with a different learning focus.

The set includes 10 task cards/math mats with 4 different tasks to challenge students. Take a look at the preview to see all that is included.

This Fall Geoboards resource is a great addition to any classroom and can be used in a variety of ways. Some ways to use the cards are:
✅Put them in a center
✅Put them in a math rotation
✅Use them as morning work or moving bins
✅Use them for STEM bins, STEAM activities,
✅Use them as fast finishers
✅Have students work on them during independent time

❤️ If you're not quite ready to buy this resource just yet, no worries! Keep it on your wishlist and come back when the timing is right. ❤️
⭐️ Bundle & Save ⭐️
Purchase the Year of Geometry With Geoboards Bundle you get this geoboard resource plus many other seasonal geoboard resources. You will have geoboard resources for each season of the school year!

Geoboard Related Products:
⭐ Geometry With Geoboards April
⭐ Geometry With Geoboards August
⭐ Geometry With Geoboards December
⭐ Geometry With Geoboards Earth Day
⭐ Geometry With Geoboards February
⭐ Geometry With Geoboards January Winter Activity
⭐ Geometry With Geoboards July
⭐ Geometry With Geoboards June
⭐ Geometry With Geoboards March
⭐ Geometry With Geoboards October
⭐ Geometry With Geoboards September

Fall Related Products:
⚡ Fall Add/Subtract BUNDLE Interactive BOOM Cards
⚡ Fall Fill In Sentence Building Boom Cards
⚡ Fall Scrambled Sentences FUN Building Sentence Writing Activity | Writing Center
⚡ K-2 ELA Google Slides Game Literacy Activity Fall Themed
⚡ K-2 Math Google Slides Game Fall Festival Themed
⚡ K-2 Math and ELA Google Slides Bundle Fall Theme

❤️ Follow me! ❤️
Look for the green star next to my TpT store logo and click it to become a follower. This will let you know about my sales, discounts, freebies and new products!
Do you need this resource for more than one teacher or classroom?
Sharing and collaborating makes teaching so much easier! In order to make this easy and legal for you to share with your team, you may buy additional licenses at a discount. How? Go to your My Purchases page on TpT and find the resource. Then, click Buy Additional Licenses. This is the best way to buy for your team or grade level without violating copyright. Thank you for respecting my work!
How can I earn credits to apply towards future purchases?
Go to your My Purchases page. Beside each purchase you'll see a Provide Feedback button. Click Provide Feedback and it will take you to a page where you can give a quick rating and leave a short comment for the product. Each time you give feedback, TPT gives you feedback credits.. You can use these credits to have a discount on future purchases.
⭐⭐⭐⭐⭐Feedback and ratings are greatly appreciated. ⭐⭐⭐⭐⭐

Terms Of Use:
All rights reserved. Purchase of this unit entitles the purchaser a limited license for single person use only. You may utilize this resource for each of your students. Duplication for an entire school, an entire school system or commercial purposes is strictly forbidden without written permission from the publisher. The Google Slides templates included in this resource may not be used to create something new, and or, distributed in anyway without written consent from the author, Heather Vanderboom.
Copying any part of this product and placing it on the Internet in any form (even a personal/classroom website) is strictly forbidden and is a violation of the Digital Millennium Copyright Act (DMCA). These items can be picked up in a google search and then shared worldwide for free.
Copyright © Heather Vanderboom, LLC All rights reserved by the author. This product is to be used by the original purchaser and is a single classroom license. It may not be posted on a public website where others have access to download it and it may not be translated into another language and then posted for free or for sale.
Report this resource to TPT
Standards
to see state-specific standards (only available in the US).
Model shapes in the world by building shapes from components (e.g., sticks and clay balls) and drawing shapes.
Distinguish between defining attributes (e.g., triangles are closed and three-sided) versus non-defining attributes (e.g., color, orientation, overall size); build and draw shapes to possess defining attributes.
Recognize and draw shapes having specified attributes, such as a given number of angles or a given number of equal faces. Identify triangles, quadrilaterals, pentagons, hexagons, and cubes.
Understand that shapes in different categories (e.g., rhombuses, rectangles, and others) may share attributes (e.g., having four sides), and that the shared attributes can define a larger category (e.g., quadrilaterals). Recognize rhombuses, rectangles, and squares as examples of quadrilaterals, and draw examples of quadrilaterals that do not belong to any of these subcategories.
Draw points, lines, line segments, rays, angles (right, acute, obtuse), and perpendicular and parallel lines. Identify these in two-dimensional figures.