Shadows and Lights, Jack B. Nimble Learns About Shadows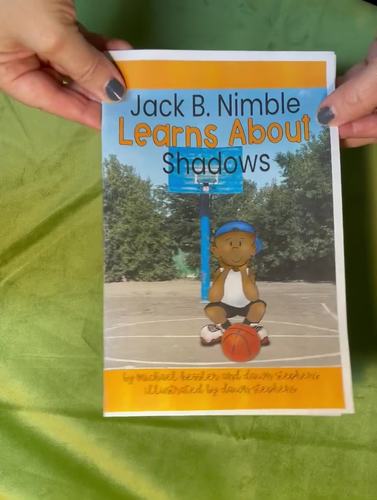 ;
Also included in
Are you searching for a way to get your students to remember scientific concepts while learning to read? When I taught kindergarten and the state first began to develop the standards, we had a hard time finding resources that covered the information. We were already using familiar nursery rhymes in

Price $27.50

Original Price $33.00

Save $5.50

Worksheet on shadows and other shadow activities are including in this bundle. You will get a matching shadows worksheet, a casting shadows worksheet, and other shadow activities preschool through first grade. ☀️✏️✂️The bundle includes a worksheet on shadows as well as lesson plans jot help you teach t

Price $9.50

Original Price $11.00

Save $1.50

Are nursery rhymes poemsAre nursery rhymes poems? YES! and so much more!This complete set of the Mother Goose meets Mother Nature will give you a Nursery Rhyme study to do every month during the school year. You will get a printable guided reading book and a PowerPoint flip-book for each unique Nurs

Price $75.00

Original Price $84.50

Save $9.50
Description
Shadows and lights
How to explain shadows to preschoolers
Jack the nimble may be able to jump a candlestick, but can he jump his own shadow? As he tries this new impressive trick, he discovers he cannot. He must learn how shadows are made and where they come from. With the sun as his teacher, he learns why shadows follow their source and therefore, cannot be jumped. This printable guided reading book and PowerPoint Show will help students learn to read too. They will be able to recite a fun rhyming text while tracking each word.
You can also purchase this resource with a teacher's guide and lesson plans.
Find the shadows BUNDLE here.
This resource includes a printable guided reading book and a PowerPoint Show to use on a computer screen, TV, or interactive whiteboard. The book includes beautiful full-color illustrations by award-winning author and illustrator, Dawn Stephens.
You will also love other "Mother Goose Meets Mother Nature" resources:
Jack and Jill Learn About Water
Humpty Dumpty Learns About Positions
Mary Learns About Animal Coverings
Little Miss Muffett Learns About Spiders
Mr. and Mrs. Sprat Learn About Foods
All six of the books can be purchased in a Mother Goose Meets Mother Nature book BUNDLEhere.
Other books are:
Peter-Peter Learns About Decay and Growth
Hickory, the Mouse Learns About Time
I would love to connect with you.
here are links to my...
Report this resource to TPT
Standards
to see state-specific standards (only available in the US).
Demonstrate command of the conventions of standard English grammar and usage when writing or speaking.
Apply knowledge of language to understand how language functions in different contexts, to make effective choices for meaning or style, and to comprehend more fully when reading or listening.
Determine or clarify the meaning of unknown and multiple-meaning words and phrases by using context clues, analyzing meaningful word parts, and consulting general and specialized reference materials, as appropriate.
Acquire and use accurately a range of general academic and domain-specific words and phrases sufficient for reading, writing, speaking, and listening at the college and career readiness level; demonstrate independence in gathering vocabulary knowledge when encountering an unknown term important to comprehension or expression.
Make observations to construct an evidence-based account that objects can be seen only when illuminated. Examples of observations could include those made in a completely dark room, a pinhole box, and a video of a cave explorer with a flashlight. Illumination could be from an external light source or by an object giving off its own light.