Shape of the Week Set - Heidi Songs Focus Wall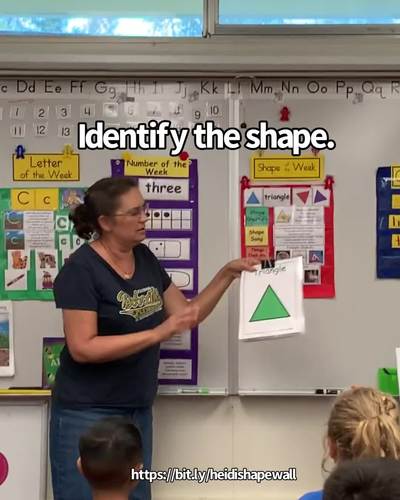 ;
Also included in
This is a bundle set for our Shape of the Week set AND the Google Slides/Powerpoint version. We've created this Google Slides version specially for our Distance Learning time period, but wanted to still offer a bundle to get the .pdf version as well, for use when teachers are back in the classroom

Price $12.00

Original Price $18.00

Save $6.00

Letter of the Week, Number of the Week, and Shape of the Week Focus Wall Sets now all bundled together in one discounted set! These flashcards are designed to display on a pocket chart for your focus wall! Here is the link to the pocket chart I used for this.Most of the picture flash cards measure

Price $17.00

Original Price $20.00

Save $3.00
Description
Our Shape of the Week set of flash cards, mini posters, and questions was designed to be used on a Shape of the Week Focus Wall bulletin board on a pocket chart for daily review. When teaching kids basic concepts such as shapes, telling them once is just not enough! Daily review and practice is the key!
Don't want to print? Click here for our Google Slides version! Also available bundled! The mp3 audio files for the songs (not the video) is also included in this product.
This set of flashcards and questions was designed to be used on a bulletin board or pocket chart on a Focus Wall in Pre-K, Transitional Kindergarten (TK), Kindergarten, First Grade, or homeschool setting. The purpose of any chart on a focus wall is to remind both the teacher and students of the concepts that the class is focusing on each day. Generally, the teacher reviews everything on the focus wall daily, and this is what Heidi does as well. This constant, daily review and practice helps most children learn basic concepts, such as shapes.
This 87 page Shape of the Week flashcard set includes the following:
Shape flashcards both student sized and full paper size, real life shape examples, shape creatures poems, song lyric poems, all for the following shapes:
Circle
Square
Triangle
Rectangle
Hexagon
Oval
Rhombus
Octagon
Pentagon
Sphere
Cone
Cube
Cylinder
Plus, headers in color and black & white for 'Shape of the Week' and 'Shape of the Day', and BW only for 'Today's Shape'. As well as subject cards in color and black & white for: Shape, How many sides?, Examples, How many corners?, Flat or Solid, Shape Creature, Shape Song, Things That Are This Shape, Are the sides equal?, ?, How many faces? How many vertices?
Check out this blog post here for Heidi's morning routine with the Number of the Day/Week set and to watch the entire preview video!
For more great Focus Wall materials, check out our HeidiSongs Letter of the Week Focus Wall Set! It's the perfect way to review the letter sounds each day!
©HeidiSongs 2019
www.heidisongs.com
Report this resource to TPT