Short e Ending Blends Hands-on Phonics Centers and Small Group Activities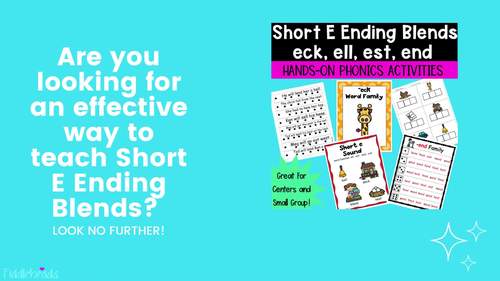 ;
Also included in
Short vowel ending blends bundle is a hands-on and effective way to work with word families. These activities are great for centers, small group, morning work, and so much more!. This bundle has posters, picture cards, games, and interactive worksheets that make learning to read FUN! Please downloa

Price $15.05

Original Price $21.50

Save $6.45

This MEGA Bundle has hands-on and effective ways to learn phonics. This bundle is all of what you will need for the entire year of phonics centers! Each set can be used for small group, morning buckets, centers, stations, and much more! The sets have posters, picture cards, games, and interactive

Price $88.20

Original Price $126.00

Save $37.80
Description
Short e Ending Blends Phonics Activities is a hands-on, effective way to work with short e word families. The activities are great for reinforcing phonics skills. The students will be able to read, write, and spell words with short e ending blends. The activities are also great for building vocabulary. The students will learn new words while they practice their phonics skills.
The activities are perfect for morning work, homework, small group, ELA rotations, morning buckets, literacy centers, intervention, and so much more. This resource includes 61 pages of activities and games. The activities are designed for Kindergarten through Second Grade, but could be used for remediation with Third and Fourth Graders.
This bundle has posters, picture cards, games, and interactive worksheets that make learning to read FUN! 
This resource includes the following short e ending blends activities:
Short e posters
Short e picture cards
Short e dot reading cards
Read and roll for short e words and sentences
Short e puzzles (worksheet provided)
Short e spinners (worksheet provided)
Short e worksheets
Short e flip-books
Short e wristbands
Short e reading strips (worksheet provided)
Short e decodable readers
Short e Elkonin picture cards
Short e See, Say, and Spell practice sheet.
Short e finish and write
Related Products
⭐ CVC Phonics Google Slides Game
⭐ CVCe Long A Hands-On Phonics Activities
⭐ CVCe Long i Hands-On Phonics Activities
⭐ CVCe Long o Long u Hands-On Phonics Activities
⭐ Digraphs Bundle Hands-On Phonics Activities
⭐ Digraphs ch, tch, wh, ph Hands-On Phonics Activities
⭐ Digraphs sh, th, ng Hands-On Phonics Activities
⭐ Diphthong Vowel Teams AW, AU, AUGHT, AL, A Hands-On Phonics Activities
⭐ Diphthong Vowel Teams OU, OW Hands-On Phonics Activities
⭐ Diphthong Vowel Teams UI, OO, UE, U_E, EW, OU Hands-On Phonics Activities
⭐ Hands-On Phonics MEGA Bundle
⭐ Diphthong Vowel Teams oy, oi Hands-On Phonics Activities
❤️ Follow me! ❤️
Look for the green star next to my TpT store logo and click it to become a follower. This will let you know about my sales, discounts, freebies and new products!
Do you need this resource for more than one teacher or classroom?
Sharing and collaborating makes teaching so much easier! In order to make this easy and legal for you to share with your team, you may buy additional licenses at a discount. How? Go to your My Purchases page on TpT and find the resource. Then, click Buy Additional Licenses. This is the best way to buy for your team or grade level without violating copyright. Thank you for respecting my work!
How can I earn credits to apply towards future purchases?
Go to your My Purchases page. Beside each purchase you'll see a Provide Feedback button. Click Provide Feedback and it will take you to a page where you can give a quick rating and leave a short comment for the product. Each time you give feedback, TPT gives you feedback credits.. You can use these credits to have a discount on future purchases.
⭐⭐⭐⭐⭐Feedback and ratings are greatly appreciated. ⭐⭐⭐⭐⭐
Terms Of Use:
All rights reserved. Purchase of this unit entitles the purchaser a limited license for single person use only. You may utilize this resource for each of your students. Duplication for an entire school, an entire school system or commercial purposes is strictly forbidden without written permission from the publisher. The Google Slides templates included in this resource may not be used to create something new, and or, distributed in anyway without written consent from the author, Heather Vanderboom.
Copying any part of this product and placing it on the Internet in any form (even a personal/classroom website) is strictly forbidden and is a violation of the Digital Millennium Copyright Act (DMCA). These items can be picked up in a google search and then shared worldwide for free.
Copyright © Heather Vanderboom, LLC All rights reserved by the author. This product is to be used by the original purchaser and is a single classroom license. It may not be posted on a public website where others have access to download it and it may not be translated into another language and then posted for free or for sale.
Report this resource to TPT
Standards
to see state-specific standards (only available in the US).
Demonstrate understanding of spoken words, syllables, and sounds (phonemes).
Recognize and produce rhyming words.
Count, pronounce, blend, and segment syllables in spoken words.
Blend and segment onsets and rimes of single-syllable spoken words.
Isolate and pronounce the initial, medial vowel, and final sounds (phonemes) in three-phoneme (consonant-vowel-consonant, or CVC) words. (This does not include CVCs ending with /l/, /r/, or /x/.)