Sight Word Game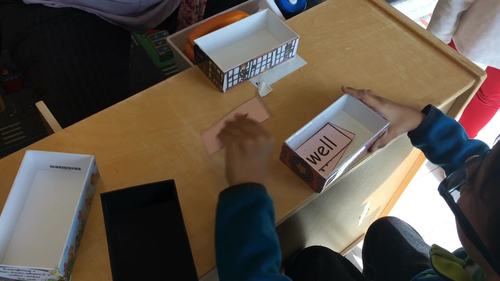 ;
Description
My kindergarten, first and second grade students love this fast-paced sight-word game for the excitement factor. I love it for tracking their progress easily and keeping them just challenged enough to feel successful and motivated to play the game at home. Parents enjoy seeing their kids' sight-word vocabulary grow along with their enthusiasm for learning at home.
All it takes to egg them on is a few phrases:
"Now, there's no need to practice at home. The grown ups are supposed to win. I want to fill my dungeon next time"
Whether they have chosen a Superhero, Monster Truck, Fairytale Castle or Under the Sea envelope to carry their word cards (selected just for them), they head home to practice through play. In our classroom, we have smart phone boxes that match the themes of their envelopes, and the one that sits in front of the adult or reading buddy is the dungeon. After I shuffle, the cards land one at a time in one of two boxes. The deck comes from the student's envelope and is built up gradually, so usually only a newer card or two fall into darkness.
Grab a smart phone box, choose from thematic papers and challenge your students to save their sight words from your dungeon!
Includes:
dungeon theme color covers
Superhero theme color covers, and line-art for printing on business size envelopes
Fairy-tale castle theme color covers, and line-art for printing on business size envelopes
Monster truck theme color covers, and line-art for printing on business size envelopes
PDFs of all Dolch words from PrePrimer to third grade word cards to print and use with the game
an editable Powerpoint for creating word cards
instructions for preparing and playing the game
note home requesting business envelope for personal word cards
a few little extras
Click here to try a free sample!
Click here to read
Thank you in advance, to those of you who generously take the time to leave feedback here. (And give yourself a little pat on the back, too - you will have just topped up your TpT credit balance!
Related:
☆Best-sellers☆
Let's connect!
Please direct any questions you may have on the Q and A page of my store (by clicking my name at the top right), or email me at ThatFunReadingTeacher@gmail.com.
Pop by for a visit on:
my blog - That Fun Reading Teacher.com
Twitter and
How to get TPT credit to use on future purchases:
• Log in and go to your My Purchases page. Click the Provide Feedback button, where you will be linked to the page to leave a rating and short comment for the product.
Be the first to know about my new products, discounts and freebies:
• Look for the green star near the top of any page within my store and click it to become a follower. You will then receive email updates about ThatFunReadingTeacher on TpT!
sight word game | play based learning | earlylearning | sight word game | sight word activities | word game | literacy center game | sight word game | differentiate sight words | fun with sight words | Google Classroom | smart phone box game | reuse smart phone box | literacy game | fun word game | Distance Learning
Report this resource to TPT