Sight Word Practice Pages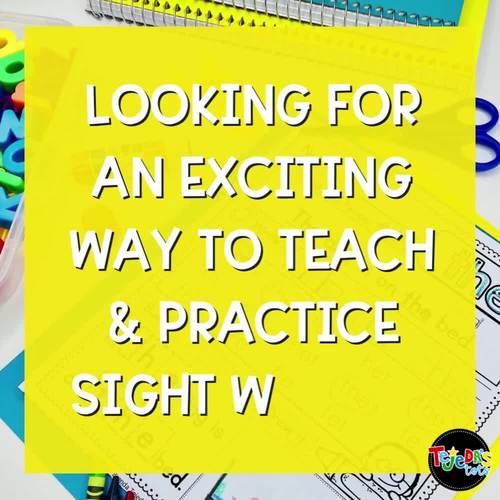 ;
What educators are saying
This is a great resource to use to practice sight words. The students can do it independently in at a sight word station once they have done an example together in class.
Ready to be used. This is a great resource for my students. Kids loved this. Great way to practice skills.
Description
Sight word practice pages- Fry high-frequency words 1-100 - Independent work packet
Have your students learn sight words in context with these fun, multi-sensory sight word sheets! Includes Fry Words 1-100. For other sight word lists, see below.
⭐️⭐⭐️⭐️⭐️ "I loved this fun way to get extra practice in on our sight words. We used these weekly! My kids were able to catch on quickly to what each section was and to complete with little or no help. They loved these and looked forward to them." -Amanda N.
For a Word-Mapping version of these, click here:
Please see preview for list of words and free sample!
Covers SO MANY essential skills!
*Tactile learning- Students finger-trace the word
*Picture-supported sentence- helps to focus on target word PLUS enables independent use!
*Fluency- Students color in a star each time they read
*Handwriting- Boxes help students with letter sizing, supports spelling
*Discrimination- Students find the correctly-spelled words
*Comprehension- Students must understand the sentence in order to draw it, so this ensures they know the word they are working on
*Fine Motor Skills- Cut and paste to build the sight word
Perfect for RTI!
PLUS:
-Starting dots help with letter orientation
-Familiar activities will enable students to complete entire sheet independently after doing one or two with you.
-Goes perfectly with my picture-supported sight word sentence cards and flashcards, as well as my foldable activity books.
-Zipped file includes pages in frequency order as well as ABC order.
**Now with AUSTRALIAN SPELLING**
100 Words Included:
the, of, and, a, to, in, is, you, that, it, he, was, for, on, are, as, with, his, they, I, at, be, this, have, from, or, one, had, by, words, but, not, what, all, are, we, when, your, can, said, there, use, an, each, which, she, do, how, their, if, will, up, other, about, out, many, then, them, these, so, some, her, would, make, like, him, into, time, has, look, two, more, write, go, see, number, no, way, could, people, my, than, first, water, been, called, who, am, its, now, find, long, down, day, did, get, come, made, may, part
Printing tip: Make sure your printer is set to 'fit to page' or 'fit to printable area.'
Related Products
• Sight Word Practice Pages: Bundle, Fry Words 101-200
• Sight Word Practice Pages: DOLCH Pre-Primer
• Sight Word Practice Pages: DOLCH Primer
*****STAY CONNECTED!*****
Have questions?
Email me at brenda@brendatejeda.com
Want my FREE weekly teaching tips and access to my FREE resource library?
Sign up here: FREE Resource Library
Want to join like-minded teachers to learn and share ideas?
Join my Facebook group here: Tejeda's Tots K-1 Teacher Group
Want to Learn More?
Visit my blog here: Tejeda's Tots
Follow me on Social Media
Report this resource to TPT
Standards
to see state-specific standards (only available in the US).
Know and apply grade-level phonics and word analysis skills in decoding words.
Read emergent-reader texts with purpose and understanding.
Know and apply grade-level phonics and word analysis skills in decoding words.
Read with sufficient accuracy and fluency to support comprehension.