Sight Word Worksheet Bundle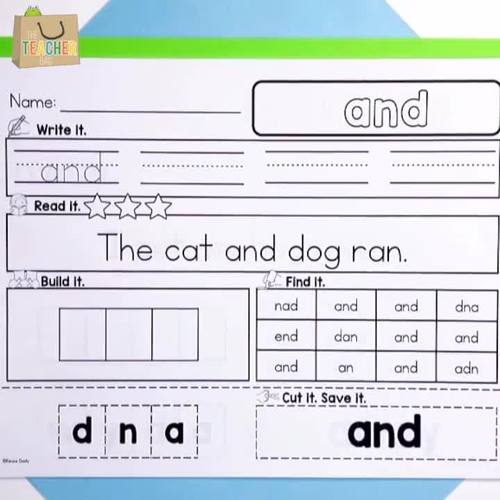 ;
What educators are saying
I have used this in my classroom and with students I tutor. They have really helped them learn the sight words that they were missing.
Great way to practice our daily sight words and the students can do it independently once they learned how to complete the worksheet.
Products in this Bundle (5)
Also included in
This BIG bundle includes all of my sight word activities. As I make more, they will be added to this bundle.♥ReneeThe Teacher Bag-------------------------------------------------------------------Be the first to know about my new discounts, freebies and product launches:★Look for the green star next

Price $29.00

Original Price $58.00

Save $29.00
Description
Are you looking for something more than a sight word worksheet? Sight word practice pages are great, but I have never liked the fact that once you complete the page, you are done.
These practice and keep sight word pages include a flashcard to cut off and place in a word folder. In my class, students use these flash cards to practice the words they are learning.
**3rd grade words have just been added!
This bundle includes the following five practice and keep packs:
40 - pre-primer sight words:
a, and, away, big, blue, can, come, down, find, for, funny, go, help, here, I, in, is, it, jump, little, look, make, me, my, not, one, play, red, run, said, see, the, three, to, two, up, we, where, yellow, you
52 - primer sight words:
all, am, are, at, ate, be, black, brown, but, came, did, do, eat, four, get, good, have, he, into, like, must, new, no, now, on ,our, out, please, pretty, ran, ride, saw, say, she, so, soon, that, there, they, this, too, under, want, was, well, went, what, white, who, will, with, yes
41 - 1st grade sight words:
after, again, an, any, ask, as, by, could, every, fly, from, give, going, had, has, her, him, his, how, just, know, let, live, may, of, old, once, open, over, put, round, some, stop, take, thank, them, then, think, walk, were, when
46 - 2nd grade sight words:
always, around, because, been, before, best, both, buy, call, cold, does, don't, fast, first, five, found, gave, goes, green, its, made, many, off, or, pull, read, right, sing, sit, sleep, tell, their, these, those, upon, us, use, very, wash, which, why, wish, work, would, write, your
41 - 3rd grade sight words:
about, better, bring, carry, clean, cut, done, draw, drink, eight, fall, far, full, got, grow, hold, hot, hurt, if, keep, kind, laugh, light, long, much, myself, never, only, own, pick, seven, shall, show, six, small, start, ten, today, together, try, warm
*This product is included in The Teacher Bag Membership Club. If you are a member of the TBMC, you can find this product in the TBMC site.
♥ Renee
-------------------------------------------------------------------
Be the first to know about my new discounts, freebies and product launches:
★Look for the green star next to my store logo and click it to become a follower.  You will now receive email updates about this store.
-------------------------------------------------------------------
Report this resource to TPT