Sight Words Write the Room Through the Year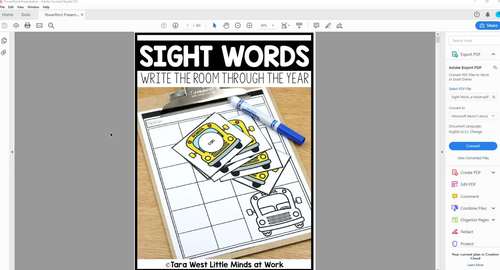 ;
What educators are saying
My students love Write the Room activities and they have been focusing on sight words lately so they are obsessed with this resource!
I love this resource! I love how the themes match up with monthly themes I already have. This resource is a fun and engaging way to get your students to practice writing their sight words.
Also included in
* * * Questions? Click HERE to Instant Message me! * * *Wow! It's *FINALLY* here! Below I will detail out all of the information about by NEW VIP Bundle! EVERYTHING in this bundle is new, new, NEW! Are you ready to take the leap and become a VIP Bundle owner?! 1. Alphabet Centers Through the Year

Price $144.00

Original Price $336.00

Save $192.00
Description
* * This packet is part of the VIP Bundle! * *

What is the Sight Words Write the Room Through the Year packet?

The Sight Words Write the Room Through the Year packet gives you a set of write the room centers for all 12 months. Each month the teacher can choose between two recording sheets for students to record their answers on.

What sight words are included?

Pre-Primer: a, and, away, big, blue, can, come, down, find, for, funny, go, help, here, I, in, is, it, jump, little, look, make, me, my, not, one, play, red, run, said, see, the, three, to, two, up, we, where, yellow, you


Primer: all, am, are, at, ate, be, black, brown, but, came, did, do, eat, four, get, good, have, he, into, like, must, new, no, now, on, our, out, please, pretty, ran, ride, saw, say, she, so, soon, that, there, they, this, too, under, want, was, well, went, what, white, who, will, with, yes


First Grade: after, again, an, any, as, ask, by, could, every, fly, from, give, going, had, has, her, him, his, how, just, know, let, live, may, of, old, once, open, over, put, round, some, stop, take, thank, them, then, think, walk, were, when


Questions? Please email me at littlemindsatworkllc@gmail.com

Would you like to receive notifications for my newly released packets and upcoming sale? Be sure to FOLLOW ME here on TPT!
**Join my private Facebook Group to join fellow Pre-K, Kindergarten, First Grade and Second Grade teachers that use my curriculum! Collaborate, chat and share ideas with like-minded teachers! Join the private Facebook group H E R E!
Visit my blog Little Minds at Work
Follow me on Facebook
Report this resource to TPT