Similes and Metaphors in Poetry Middle School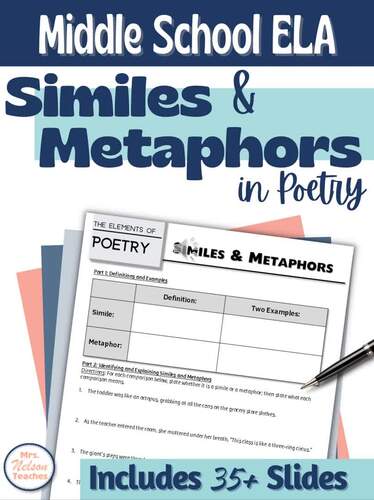 ;
Easel Activity Included
This resource includes a ready-to-use interactive activity students can complete on any device. 
Easel by TPT is free to use!
Learn more
.
What educators are saying
This was so helpful in my poetry unit! My students were engaged and having great conversations about the topics. Thank you!
Also included in
Why do we often submit our students to long, dull, (dare I say, torturous) poetry units that they hate? Why not make poetry as fun and exciting as it has the potential to be?This unit does just that! Inside this .pdf file, you will find 10 elements of poetry lesson plans and activities plus a pre an

Price $27.00

Original Price $41.49

Save $14.49
Description
Similes and Metaphors are so fun to teach to middle school students! Through poetry, students will learn about figurative language and how it affects a poem.
With 35+ Slides and student worksheets, this print-and-go resource will teach students about similes and metaphors and how they affect poetry and writing. Through a fun and engaging PowerPoint or Google Slides Presentation, students will have been exposed to numerous examples and have ample opportunities to practice interpreting figurative language in poetry--both as a class and individually with the included two-page assignment.
This activity works well for traditional in-person or can also be used digitally for distance learning.
Included in this .pdf file:
Link to download Google Slides Presentation (35+ slides!)
Instructions for saving GS Presentation as a PowerPoint Presentation.
Basic Lesson Plan with step-by-step teacher instructions.
Two-page assignment for students on Similes and Metaphors
Answer key for Similes and Metaphors assignment
This is just one of the lessons I use in my comprehensive and FUN poetry unit-Check it out!
https://www.teacherspayteachers.com/Product/FUN-Poetry-Unit-for-Middle-School-Students-512546
Teaching Duration
90 minutes
Report this resource to TPT
Standards
to see state-specific standards (only available in the US).
Cite textual evidence to support analysis of what the text says explicitly as well as inferences drawn from the text.
Determine a theme or central idea of a text and how it is conveyed through particular details; provide a summary of the text distinct from personal opinions or judgments.
Determine the meaning of words and phrases as they are used in a text, including figurative and connotative meanings; analyze the impact of a specific word choice on meaning and tone.
By the end of the year, read and comprehend literature, including stories, dramas, and poems, in the grades 6–8 text complexity band proficiently, with scaffolding as needed at the high end of the range.
Cite several pieces of textual evidence to support analysis of what the text says explicitly as well as inferences drawn from the text.