Simple Fine Motor Centers | 12 Skills | Special Education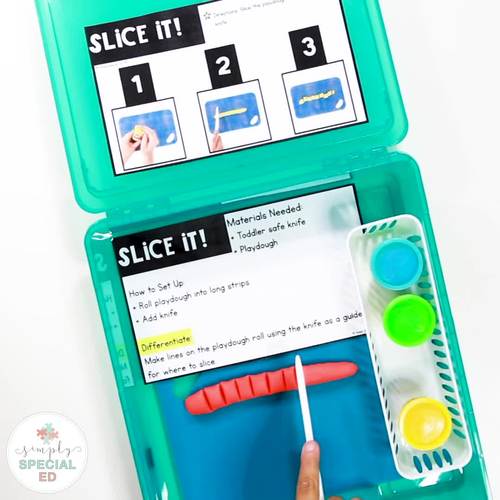 ;
12 Skills Included w/ Visual Directions, Labels, and more!
What educators are saying
This was perfect for a self contained classroom....my OT was so happy I had a center dedicated to fine motor tasks!
My students absolutely love doing these fine motor skills during centers. They do not even realize that they are doing any sort of work. They have so much fun!
Description
These Simple Fine Motor Activities were created with your self-contained special education students in mind and are the perfect way to implement a fine motor activities to your classroom in a structured way!
WHAT CENTERS ARE INCLUDED?
+ Trace It- Trace the line
+ Punch It- Hole punch
+ Staple It- Staple paper
+ Cut It- Cut the lines
+ Poke It- Use a Montessori hole puncher
+ Dot It- bingo daubber markers
+ Push it- Pom poms into a container
+ Slice It- Slice the playdough
+ Stick It- Dot stickers
+ Tong It- Use tongs to move pom poms
+ Clip It- Paper clips on cardboard
+ Chop It- Cut through toilet paper rolls
WHAT'S INCLUDED FOR EACH CENTER?
+ Center Labels
+ Visual directions for each center (real pictures)
+ Set up guide for each center
+ Cards for centers that use them
+ Tips for Differentiating
+ Materials Needed list
+ Photos of resource assembled
+ Teacher Guide Book
WANT SEASONAL FINE MOTOR CENTERS?
- Simple Fine Motor Centers: FALL
WHAT TEACHERS ARE SAYING:
"This was perfect for my fine motor center! I wanted to have a station where students could work on maintaining their fine motor skills, but didn't have time to create all the materials for it. I bit the bullet and bought this pack and I am so glad I did! I even bought the bins from Costco to put everything in. That and the instructions for each task made it easy for my paraprofessionals to use with my students. I am starting a new position this year and will definitely be using it again!"
- Katrina
"My students desperately need practice in this area and my caseload continues to get younger, so I am looking forward to an independent activity that can last the entire year. In a district that does not provide planning for self-contained teachers, this resource is going to be a godsend!"
-Amber
"My students like this as a different way to work on fine motor skills that wasn't the same old paper cutting. This was so thought out that my OT was impressed! "
- Kaylie
WHERE CAN I FIND MATERIALS?
Some materials will need to be teacher provided but many can be found in your classroom already (examples: scissors, playdough, pom poms, toilet paper rolls, stickers)
WHERE CAN I SEE A PREVIEW?
Click the preview button to see more.
Click here to read about how to use in the classroom.
Click video preview to see the video walkthrough.
FIND ME HERE!
Total Pages
12 Skills Included w/ Visual Directions, Labels, and more!
Teaching Duration
Lifelong tool
Report this resource to TPT